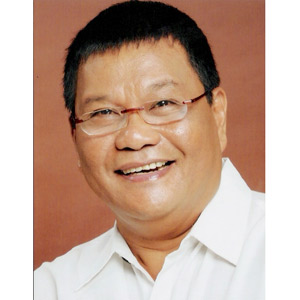 ---
Followingthe success of the afternoon soap SinenovelaPresents Paano Ba Ang Mangarap?, DirekJoel Lamangan shifts from drama to romantic-comedy with GMA-7's latestaddition to its Telebabad Block, Adik Sa 'Yo.

Theaward-winning director is known for his previous works with GMA-7 including Babangon Ako't Dudurugin Kita, AsianTreasures, Obra, and Sine Novelas, Pasan Ko Ang Daigdig, Una Kang Naging Akin,Paano Ba Ang Mangarap? He first took on a romantic-comedy project when hehelmed GMA Films' and Regal Entertainment's Valentine offering, When I Met U. The Richard and KC-starrerended up stunning success at the box-office earning a staggering P100 million duringthe course of its theatrical run.

DirekJoel has proven that he can not only make people laugh or cry, but he can alsomarry romance, comedy and drama and turn it into a feel-good project.

Forthis reason, the management of GMA-7 decided to entrust the originalromantic comedy series, Adik Sa 'Yo,starring Dennis Trillo, Jennica Garcia, Marvin Agustin, and Jolina Magdangal tothe top-caliber director.

Adik Sa 'Yo is also a reunionof sorts for the main cast with Joel Lamangan, except for Jolina, who hasn'thad the privilege of working with the premier director. Dennis did Blue Moon and the acclaimed 2004 periodpiece Aishte Imasu 1941 with DirekJoel, while Jennica's last project with him was Sinenovela Presents: Pasan Ko Ang Daigdig. Meanwhile, Marvin lastworked under his direction when he starred in the primetime drama Babangon Ako't Dudurugin Kita. All didremarkably well in terms of either ratings or box-office success, where much ofthe credit goes to Direk Joel's knack for filmmaking.

Currently,Direk Joel is busy taping Adik Sa 'Yo,which will soon air on GMA Telebabad.