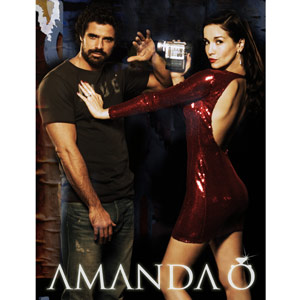 ---
Fromthe producers of the Argentinean telenovela hit Lalola come another romanticcomedy that will surely glue viewers to their seats: Amanda O.

Setto premiere on Q Channel 11 starting this Thursday (May 28), Amanda O putsits mark on Philippine television's history with a couple of firsts - the firstforeign television series dubbed in English and the first telenovela which willbe made available to viewers in three platforms - television, internet, andmobile phone.

AmandaO, played by Natalia Oreiro, is fame immortalized. She is a renowned telenovelaactress, a pop diva, and a certified newsmaker. Her face is not just seen ontelevision but all over the tabloids as well, for she has become a paparazzifavorite. Amanda may detest all the made-up lies about her, but she iscertainly used to it.

Allthat is precious to Amanda is her image, until she is accused of being a thief.Beleaguered, Amanda breaks down and wishes that she's somebodyelse.

Andso it happens. Amanda wakes up in an unfamiliar place the next day bruised,battered, and disoriented. The next thing she sees confuses her all the more -another woman, not her, is on the poster of the new telenovela she stars in.Amanda makes her way home only to find out that the same woman now owns herlife, her identity, and even her own name. No one, not even her own husband,recognizes her.

Hopingto regain her identity, Amanda uses cyberspace to re-introduce herself to theworld. She captures the media's attention and her fans' sympathy through herblog and her funny videos, revealing even her innermost secrets.

Alongthe way, Amanda meets Dante (Luciano Castro), a mysterious man who becomes heronly source of support. What role will Dante play in Amanda's new life? WillAmanda eventually fall in love with her unexpected savior? And ultimately, willAmanda regain everything she lost?

Amanda O airs on Q Channel 11 starting thisThursday night, May 28, at 8:30 pm.
ADVERTISEMENT - CONTINUE READING BELOW