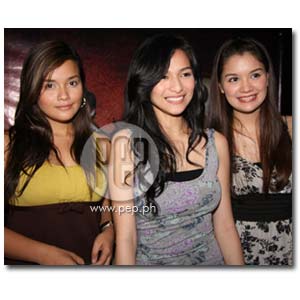 ---
GMA Network's SRO Cinemaserye presentsSuspetsa is a suspense-thriller that aims to keep viewers on the edge oftheir seats from start to finish.
The new season is led by award-winning director Mark Reyesfeaturing three of the original and talented products of the talent search, StarStruckSeason 1. These are Yasmien Kurdi, Nadine Samonte and Jennylyn Mercado.Completing the powerhouse cast are Ryan Eigenmann, Victor Aliwalas, PaoloContis, and Baron Geisler.
Suspetsa, which is pennedby seasoned scriptwriters headed by Jun Luna, is loaded with thrills andcliffhangers that promise to capture the viewers' imagination and interest upto the last episode. Every character is given equal premium, emphasizingfurther their acting skills.
The story centers on the lives ofthree women: the self-assertive probinsyana Nina (Jennylyn), smart yet bigheadLeonor (Yasmien), and the lovely but feeble Abigail (Nadine).
The three childhood friends havekept their relationship intact and strong through the years. However, theirbond is tested when Nina and Leonor saved Abigail from being raped by Chris(Ryan), the mayor's son. Nina and Leonor unintentionally pushed Chris from thebell tower during their fight.
Panic-stricken, they decide toabandon his almost dead body rather than report the accident. The news ofChris's death startles the three girls because he was still alive when they left him.Still, they pretended that nothing happened.
But five years later, someonebegins pestering them. Anonymous messages are sent to the three, and they doubtwhether someone else saw what they did to Chris or if Chris really died.
Who is the mysterious assailant terrorizing Nina, Leonor,and Abigail? While their attacker is out for revenge, how will the three escapehis terrifying schemes and menacing stalking? How long will the nightmare ofthe past haunt Nina, Leonor, and Abigail?
ADVERTISEMENT - CONTINUE READING BELOW
Thursday nights will never be the same again with thethrilling premiere of SRO Cinemaserye presents Suspetsa thisThursday, May 28, right after One Liter of Tears on GMA-7.