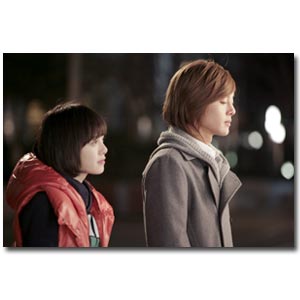 ---

The battle for Jan Di's heart is on!

Whoamong F4 boys Jun Pyo and Ji Hoo will Jan Di choose? Find out this weekas the story heats up even more in ABS-CBN's Asianovela, Boys Over Flowers.

Jun Pyo ceased every opportunity toshow Jan Di what he truly feels. The Shinwa heir even brought the sassylaundry girl to a heart-shaped island New Caledonia, which he vowed tohimself that only the girl he wants to spend the rest of his life withwould be able to see.

In a surprising twist of events, JiHoo then summoned the courage to show his growing affection for Jan Di.A tender kiss which he give to Jan Di instantly changes everythingespecially when Jun Pyo witnessed it himself.

What will happen to Jun Pyo and JiHoo's friendship? How will this event affect the F4? Who will emergevictorious in Jan Di's heart?

Don't miss all these this week in Boys Over Flowers, after Hot Shot on ABS-CBN.