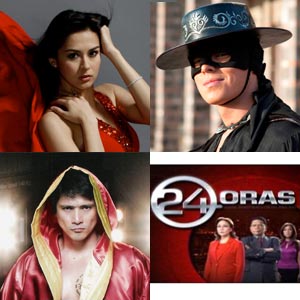 ---
GMA Network continues to lead by huge margins in Mega Manila TV ratings andaudience share, refuting claims being made by its biggest competitor.

Based on data from AGB Nielsen Philippines, GMA Network posted a total day(6 am to 12 midnight) household audience share of 40.2%, 9.2 percentage pointshigher than ABS-CBN's 31% for the month of May 2009 (May 24 to 31 based onovernight ratings).

Twenty-two out of the overall top 30 programs were from GMA Network, withthe first four programs in the list all Kapuso primetime hits including Ang Babaeng Hinugot Sa Aking Tadyang, Zorro,Totoy Bato, and 24 Oras.

Moreover, only four ABS-CBN programs made it to the top 20 list, which wasdominated by GMA Network shows that occupied 16 slots in the roster.

ABS-CBN has been claiming that they have recaptured the lead in TV ratingsin Mega Manila, citing May 19 ratings data from TNS. But the figures from TNSare the exact opposite of the data from AGB Nielsen, which is the more widelyrecognized industry supplier of TV ratings in the country.

With a total of 1,650 home panels in Total Urban Philippines, AGB NielsenPhilippines was first to release official National Urban TV AudienceMeasurement (NUTAM) data in January 2007. Rival TNS, on the other hand, hasless home panels nationwide with 1,250 and began releasing official nationaldata only in February 2009.

In addition, AGB Nielsen has been providing Mega Manila TV Ratings datasince January 2001 while TNS began only in September 2007.

At least twenty local companies including GMA Network, another TVchannel (not ABS-CBN), and top media agencies, plus five (5) regionalclients subscribe to AGB Nielsen. TNS, on the other hand, has not providedupdated information on their client base during their industry presentationlast May 31.