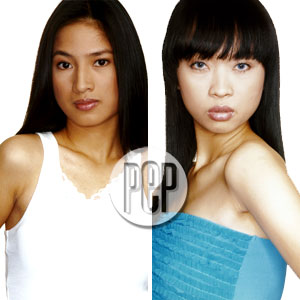 ---
Philippines'Next Top Model (PNTM)made its television premiere on RPN-9last Tuesday, March 13.
The localfranchise of America's Next Top Model held auditions all over thecountry, selecting 14 of the 3,000 that participated in the go-see. Thefinalists are Grendel Alvarado, Mira Baino, Marge Cornillez, Sara Kae Custodio,Bambi del Rosario, Gemma Gatdula, Raine Larrazabal, Rina Lorilla, JenilynOlivar, Joy Pagurayan, Jayna Reyes, Wheng Santos, Elvira Stehr, and Sheena Sy.
The girls werebrought to the PNTM house, where the girls will be living during thecompetition. The house is equipped with surveillance cameras to document theactivities inside the house.
The 14 finalistswere told to race to the house and to pick their own rooms. The catch: thereare only 12 beds.
Two girls had tosleep in the living room.
BABES BIKINI.After getting settled,the girls received their first Ruffa Text—in ANTM, the girls receiveinstructions through Tyra Mail. The girls were told to put on their bikinisbecause they were going to have a bikini wax!
They had theirown ways of stifling their screams. Some chose to bite on towels, while Mira, astudent from Cainta, chose to munch on fruits.
After gettingsome shut-eye, the girls had a surprise visit from Joey Mead, Asia'ssupermodel/TV host.
Joey broughtthem to Rizal Avenue in Manila. The challenge was to pose in a bikini in frontof hundreds of onlookers.
The crowdcheered and jeered at the girls while ace photographer Xander Angeles tookpictures. Joey helped some of the girls to pose.
TWO GET THEBOOT. The girls facedthe judges for the first time. The panel includes Ruffa Gutierrez-Bektas,Xander Angeles, Preview editor-in-chief Pauline Suaco-Juan, and fashionchoreographer Robbie Carmona.
Mira, Rina, andJayna got a thumbs-up from the judges for being "fierce." Mira and Jayna hadmodel-esque poses, while Rina was praised for looking like a Brazilian model.
In the end,Marge and Sara Kae had the weakest pictures. Both got the boot!
ADVERTISEMENT - CONTINUE READING BELOW
Catch PNTMevery Tuesday, 8:30 p.m, on RPN-9.