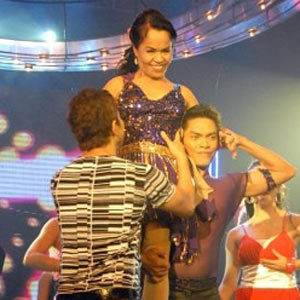 ---

TV5 is making its mark on the ratings game nowadays. With the network's Saturday primetime block gaining a larger share of the ratings pie, Sunday primetime is close at its heels. In fact, Lucy Torres-Gomez's dance program, Shall We Dance, posted its highest audience share for 2008-2009 in its episode last Sunday, May 31, which featured "Pacmom" Mommy Dionisia in her much talked about TV dance debut.

There's more to watch out for because both Shall We Dance and Joey De Leon's Wow Mali! will air LIVE this Sunday, June 4. Fresh from its makeover of Mommy Dionisia, Shall We Dance proceeds with the makeover of comediennes K Brosas, Keeana Reeves and Joy Viado into dancing princesses on its live episode themed "Mga Komedyanteng Cinderella." Whose transformation will win the glass slipper and get to dance with Prince Charming?

Before the comediennes' dance showdown, Joey De Leon takes Wow Mali! LIVE for the first time in the show's 10 years on air. On Wow Mali!'s special live episode this Sunday, Joey will be giving away up to P100,000 during the show's "Mahiwagang Tunog" portion. So far, nobody has correctly guessed Joey's "mahiwagang tunog" questions and it's about time that Joey gives away the cash prize. During the show, viewers will hear the "mahiwagang tunog" and on Joey's cue, they can call and try to guess it right.

Be the lucky winner to win big cash while laughing along with Joey on Wow Mali! every Sunday at 6 pm. This gag show will be followed by the exciting celebrity dance performances of Shall We Dance at 8 pm on TV5.