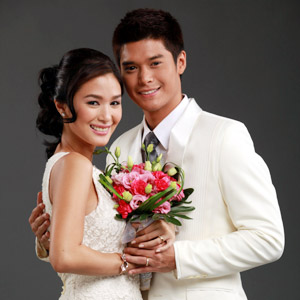 ---
Beginning June 8, Sine Novela remakes another classic Filipino film titled Ngayon at Kailanman.

GMA-7's newest afternoon TV show features a star-studded cast topbilled by Heart Evangelista and JC De Vera.Joining these two versatile artists are equally talented dramatic actors suchas Luis Alandy, Pen Medina, Ramon Christopher, Dion Ignacio, Arci Muñoz, DexterDoria, Charlie Davao and Mel Kimura.

This latest installment of Sine Novela is basedon a blockbuster hit of the same title in the '90s directed by Joel Lamangan,starring Sharon Cuneta, Cherrie Gil and Richard Gomez. It's a story about twochildhood sweethearts whose marriage is rooted on greed and revenge.

"Parang best friends kami ni JC nung bata kami. Siyamahirap, ako mayaman. Tapos noong umalis ako pumunta akong States, pagbalik ko,ang daming nagbago. So mababaligtad 'yong sitwasyon pagbalik ko, parang ganoon,"says Heart about her newest show on the Kapuso Network. She was last seen in the primetime show LunaMystika (2008).

As for JC, he describes his character by saying, "Hindi naman talaga siyamayaman dati. Since magandang lalaki, parang pinag-aral ako, inayusanako, binihisan ako ni Arci [Muñoz], sila kasi 'yong mayaman na family."


SYNOPSIS. The televisionversion of the movie begins when Ayra Noche (Heart Evangelista), a woman from awealthy clan, returns to the country when her father Don Artemio (Charliedavao) passes away. Aside from dealing with herfather's death, Ayra finds out that her family no longer owns the Hacienda Noche andthe ancestral farm. She then discovers that Hacienda Noche is beingmanaged by the son of their father's trusted assistant and Ayra's childhoodsweetheart, Edwin Torres (JC De Vera).

Her brother Ronald (Luis Alandy) also told Ayrathat his childhood sweetheart Edwin and his father Vener (Pen Medina) has ahand with the death of Don Artemio. Ayra, a strong-willed woman, rushes toconfront Edwin.

Edwin has been in love with Ayra since they werekids. He strived hard to finish college and has become the town's wealthiestbusinessman. Even though Ayra despises him because of the falseallegations, Edwin asks Ayra to marry him so she can own half of HaciendaNoche. Ayra, on the other hand, has no feelings for him and refuses his proposal.But she changes her mind when she realized that she can have their propertyonce more. Ayra finally accepts Edwin's proposal only with a condition thatthey won't have any physical contact as a couple.
ADVERTISEMENT - CONTINUE READING BELOW

Unknown to Ayra, her marriage with Edwin is justthe beginning of a complicated and miserable life when Donna (Arci Muñoz),Edwin's rich and spoiled ex-girlfriend refuses to let her boyfriend go. Donnaunceasingly pesters Ayra and competes with her to win Edwin's attention.

But Edwin is totally head over heels in lovewith Ayra and protects her from the scheming Donna. But when will Ayrareciprocate Edwin's love? Can Ayra teach her heart to love the man who causedher misfortunes? Does Edwin have enough patience to wait for Ayra's change ofheart? Can love reign over all-consuming rage?

Don't miss the newest afternoon program thatwill teach one's heart to love and to forgive in Sine Novela presents Ngayonat Kailanman beginning Monday, June 8, on GMA-7 Dramarama sa Hapon.