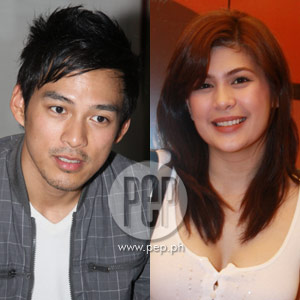 ---
Guji Lorenzana of Star Magic Batch 16 was formallyintroduced to the public through a segment on ASAP aired on August 2008.

The 26-year-old singer-actor actually has showbiz roots since he is the nephewof former OPM singer Joann Lorenzana. He is also a DJ for Mellow 94.7, withradio shows every Saturday and Sunday.

"My real name is Gregory Jr. and my nickname when I was growing up was Guji,"he revealed during a previous interview with PEP (Philippine EntertainmentPortal). "I was born in Long Beach, California and I grew up in San Francisco."
Both his parents are Filipinos and he can speak andunderstand Tagalog but with a noticeable accent.


PEPPER'S ROSES. The sixth book of Precious Hearts Romances to beadapted for television is titled "Pepper's Roses." It will be topbilled by Gujiand Roxanne Guinoo.

Guji described his working experience so far with his leading lady. "We didthis workshop wherein I'm looking at her eyes...We did a scene where we wereholding each other's hands and looking at each other's eyes. And, wala lang,parang there's electricity, you know. There's something going there, chemistry.So I think she's very helpful, 'cause she knows I'm a Fil-Am so 'yong Tagalogko medyo...She's very helpful and she's very malambing."


What is the plot of their series?

"Our fathers are best friends but they had a falling out. Yung dad ni Pepper,medyo sad na. So what Pepper decides to do is to call me up and asks me topretend that we're together so they can make bati. Pero for me, my characterdoesn't like her. But we fall in love in the process."

Guji says that their Bud Brothers episode might start airing on ABS-CBN duringthe latter part of June.


ASPIRING MUSICIAN. Guji tried launching his singing career in the UnitedStates but even though he joined American Idol three times, he was notfortunate enough to make the cut.

"I started out wanting to be a singer kasi I auditioned for American Idolin the U.S. After that, my Tita Joann, who used to be a singer here in thePhilippines told me, 'I think you should give it a shot.' So I brought my newtape to the Philippines, the first person to hear it was Kuh Ledesma. She said tome, 'With your writing and your singing, I think you can make it.'"

Kuh's words encouraged Guji to try his luck in Philippine showbiz.


ADVERTISEMENT - CONTINUE READING BELOW
He narrated his struggles to make a name for himself in themusic scene. "I released two independent albums [a self-titled album andanother one titled Without Your Love]. You have to be multimedia, youhave to be on TV, you have to do it all. So after doing several commercials,I went to showbiz."

Viewers can look forward to seeing Guji perform on the Kapamilya Sunday varietyshow ASAP '09.

"For now I'm singing for ASAP, I'm with Boiz Boys, it's a new boy band that theshow started. We were launched on Wowowee last May 23," he recalled.


When asked to describe the genre of his music, Guji said: "I do pop rock, so my songs are very a lot ofguitars, a lot of piano and it's just a little bit hard, it's very rock."
Boiz Boys is composed of Guji Lorenzana, fellow Star Magic talent Nico Antonio,Ronnie Liang, and Jay-R Siaboc. They are slated to have a major concert this coming August.