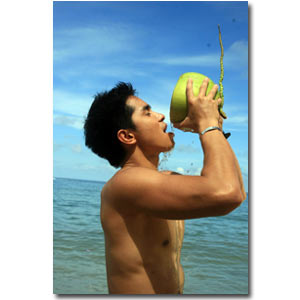 ---

This Sunday, June 14, Susan Enriquez features beach hotties, ice cream, and gift and games in Kay Susan Tayo!

Chick-magnet JC Tiuseco and sexy vixen Rufami find themselves stranded in Batangas' world-class beach resorts, Blue Coral and Acuatico. With such a romantic ambiance and with no one else around, can JC survive the advances of the love stricken Rufami? Love affair or not, their Batangas getaway will surely be sizzlin' hot!

A(H1N1), Con-Ass, Global Warming... With all these problems adding to our daily burden, doesn't one just wanna scream? Well, better scream for ice cream because KST is scooping out two of the best and most unique frozen delights this side of town! Is it Thumbs Up for you or is it the Nitrogen Ice Cream you want? Whatever is the pick, each treat will make you cool!

Rumor has it that a mall in Quezon City is allowing a factory to operate inside its complex. Apparently, the same mall has also allowed parents to leave their children with strangers. But not to worry, because the places we're talking about don't pose any threat to shoppers or children at all! In fact, The Gift Factory and Dave's Fun House are two of the places one should visit if you need to grab a gift or need a safe haven for kids.

Leave troubles behind and have a good time with Kay Susan Tayo this Sunday, June 14, 10:30 am on GMA-7.