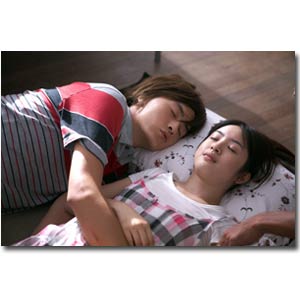 ---

After the hit series It Started with a Kiss and They Kiss Again, Taiwanese superstars Joe Cheng and Ariel Lin team up once more for another romantic comedy. Titled Love or Bread, this Asianovela premieres this Monday, June 15, on ABS-CBN.

Follow the story of Lalaine, a bank employee by day and mall janitress by night, who will be disowned by her family after she chooses to be with her long distance boyfriend in the hope that he will finally ask her hand in marriage. To her surprise, her boyfriend broke up with her because he already fell out of love. This leaves Lalaine with no money, no work, and no family.

During these critical moments, she crosses path with Albert, a lazy guy with no directions in life, and gets entangled with the mess he's into after he had conflicts with a notorious mafia group. A very important family heirloom owned by Albert will then fall into the hands of Lalaine, which she will use, out of desperation, to rent a place where Albert also happens to live!

Now, instant enemies become instant housemates. In their search for good fortune and a good life, will they find something else in each other's company? When it comes to love, will you put your mind over your heart and let reason win versus your emotions?

Don't miss the premiere of Love or Bread this Monday (June 15) after Mr. Bean.

Meanwhile, the fever continues in another Asianovela airing on the Kapamilya Network, Boys Over Flowers.

This week, Jan Di finally finds out the reason why Jun Pyo beated up Gail's date. The young Shinwa heir will only forgive her if she will apologize and say, "Honey, I am sorry."

Jun Pyo also prepared a surprise for Jan Di in their very own garden and opened up to her by telling her about his childhood. This heart-to-heart talk will then pave way for them to have their first real kiss!

Don't miss all these in Love or Bread and Boys Over Flowers on ABS-CBN.
ADVERTISEMENT - CONTINUE READING BELOW