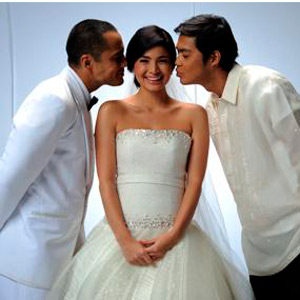 ---
Starting June 29, television's oneand only Dyosa Anne Curtis makes a much-awaited comeback on ABS-CBN's PrimetimeBida via the romance-light drama The Wedding. She will be paired withZanjoe Marudo and Derek Ramsay. With respected directors Jeff Jeturian and MaeCruz at the helm, The Wedding is loosely based on the humor of Koreanovelas, explains Anne Curtis herself.

Anne plays the role of Candice DeMenes, a loving daughter who will do everything to prevent her parents fromseparating. In her desperate attempt to save her parents' relationship, shewill scheme her engagement to Marlon (Zanjoe), a poor engineer working for herfather.

Candice's initial scheme developsinto a full-fledged whirlwind romance leading to preparations for a realwedding to prove the true love they have found.

But what if Candice's first andgreat love Warren (Derek), the Mr. Right she has waited for so long, returnsto claim her back?

What will Candice choose: a loveworth fighting for or a love worth waiting for?

The Wedding also stars Eula Valdes, Michael De Mesa, AlwynUytingco, Mich Dulce, Irma Adlawan, among many other talented stars.

Fall in love with The Wedding onABS-CBN Primetime Bida starting June 29, 2009.