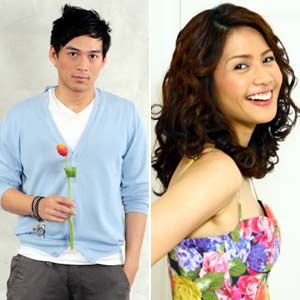 ---
It seems that the newest Bud Brother love team, Kaye Abadand Guji Lorenzana are off to a good start as Guji candidly admitted that Kayeis his type of girl. The two young stars will be seen in the afternoonseries Precious Hearts Romances presents Bud Brothers this week onABS-CBN.

Guji declared that there is a possibility he will fall in love withKaye. "She glows on and off cam. She's a great person and she's my type: petiteand is very into music. I think I fall for her a little bit everyday." Thismade it easier for them to work together especially during their kissing scene,which was taken on the first day they met.

The singer-actor also shared that he felt anxious when he found out that Kayewas going to be his partner since they didn't have enough time for a workshop. "I'm really glad that I'm being paired with someone well known. Iactually want to work with someone who's a veteran like Kaye because I want tolearn from her."

In a previous interview last May 29, Guji told the entertainment press that his love team partner for the upcoming episode would be Roxanne Guinoo. In fact, he described the workshop that he and Roxanne attended in preparation for this show. This was also what was announced during their press conference last May. (Click HERE to read related article)

However, it seems that there has been a change in the lineup of the show since Guji will now be paired with Kaye Abad instead of Roxanne Guinoo.

The newest episode titled "Pepper's Roses" tells the story of a carefree fantasyshow writer Pepper (Kaye) who asks her serious childhood friend Rei (Guji) to helpher mend their fathers' differences. But because of their plans, slowly butsurely, their past closeness that was lost during the years is rekindled.

Will the couple's relationship end up in a sweet romance or are they destinedto just remain best friends forever?

Under the direction of Cathy Garcia-Molina and from the screenplay of JoseJavier Reyes based on the pocket book, find out the answers in Precious Hearts Romances presentsBud Brothers weekday afternoons after Kambal sa Uma on ABS-CBN.
ADVERTISEMENT - CONTINUE READING BELOW