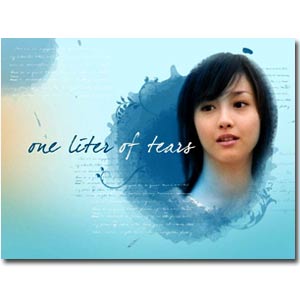 ---

Her only wish is "to live."

Find out how the lead star of GMA-7's poignant series One Liter of Tears fulfills her desire to live life to the fullest. The show's touching finale airs this Friday, June 19, right after Adik Sa 'Yo.

As Aya's (Erika Sawajiri) health worsens, she realizes she still wants to continue writing as proof of her unshakable will to live and be happy. Another year has passed and Aya isn't able to move her legs anymore. And when Aya chokes on her food, this worries her whole family. Dr. Mizuno tells Aya's parents that it will be even more difficult for her now and it's probably best to take her home already.


The young girl decides to tell Dr. Mizuno that she is willing to donate her body once she has died to further his research on the disease.

Aya asked to be taken home for Christmas, a request Dr. Mizuno agreed to but only for one night. He says it might be the last time she goes back home. Aya can hardly speak anymore and uses a board with letters to spell out what she wants to say. Dr. Aso tells his son, Haruto, to do what he thinks is right, referring to his relationship with Aya. The sick girl thanks Haruto for the last time and asks him to live a long life.

Can a miracle save Aya's life? How will Aya's loved ones accept her fate?

One Liter of Tears is based on a true story about a Japanese girl named Aya Kitō who suffered from an incurable disease, but lived life to the fullest until her death at 25. One Liter of Tears wishes to deliver her simple but strong message: "Just being alive is such a lovely and wonderful thing."

Don't miss the tear-jerking finale of One Liter of Tears this Friday, June 19, right after Adik Sa 'Yo only here on GMA-7.
ADVERTISEMENT - CONTINUE READING BELOW