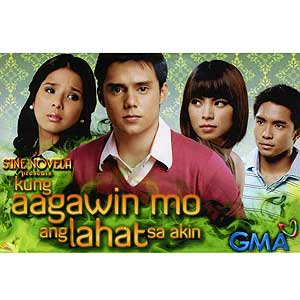 ---

For almost three years already, GMA-7 has been doing makingTV soap operas based on memorable movies to continuously entertainPinoys even during siesta time.
As part of its 59th anniversary celebration, theKapuso network remakes the 1987 film KungAagawin Mo Ang Lahat sa Akin as its newest Sine Novela offering for"Dramarama sa Hapon."
This popular Sharon Cuneta movie-turned-TV series willfeature young actors such as Maxene Magalona, Patrick Garcia, Glaiza de Castro,and JC Tiuseco. Also joining them in thecast are Nonie Buencamino, Emilio Garcia, Joanne Quintas, Lovely Rivero, JackieRice, and Jace Flores. Jackie LouBlanco, who portrayed the villain character Gladys in the original movie, isalso included in the TV remake as the mother of Gladys.
For those who were not able to watch the movie, Kung Aagawin Mo Ang Lahat sa Akin isabout a family whose members are divided by jealousy.
In the beginning of the story, Gilbert (played by Nonie)decides to adopt two orphans, Maureen (played by Maxene) and Mercedita (playedby Jackie) after learning that his wife Clara (played by Jackie Lou) cannotbear a child because of her heart ailment.
However, Clara refuses to recognize the two girls becauseshe wants to have her own child. So, shedid everything to get pregnant, which leads to giving birth to a baby girlnamed Gladys (who grows up to be portrayed Glaiza de Castro).
Although he already has his own daughter, Gilbert remainedclose to his two adopted girls. This fueled jealousy on the part of the biological daughter. Gladys becomes even more envious when her mother manipulated her to hate Maureen and Mercedita.
ADVERTISEMENT - CONTINUE READING BELOW
The sibling rivalry worsens as they grow up. Gladys plans to do everything to get evenwith the adopted sisters, whom she believes have taken her father's love awayfrom her. This will prompt Gladys to steal Maureen's boyfriend Arvin (played by Patrick). She did this by claiming that he was thefather of the child she's carrying. Butthe truth is, she was impregnated by her boyfriend Dino (played by Jace Flores).
In this story of competition between sisters, who willend up saying: "Kung Aagawin Mo Ang Lahat sa Akin?" Find out on Monday, June 22, as this soap opera premieres on GMA-7's Dramarama sa Hapon.