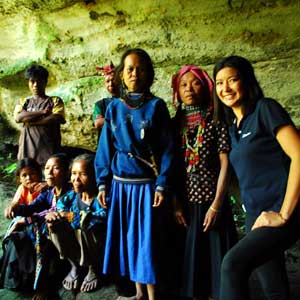 ---
In 1971, a band of cave-dwelling people called the Tasadays was discovered in a very remote rainforest in South Cotabato, Mindanao. They were allegedly living a very Paleolithic lifestyle, using tools made of stone and wood, surviving in the wild by hunting animals, and wearing leaves for clothing. This was hailed by the international media as one of the greatest anthropologic discoveries that time, declaring the 26 members of the tribe as living proof that prehistoric life existed in the Philippines back then.

However, news reports came out thirteen years after that the Tasaday's story was a big hoax and their story was just created to boost the popularity of the Marcos regime. Since then, no news was ever heard about the Tasadays again... until now.

This Monday on I-Witness, award-winning documentarist Kara David sets foot on the Tasaday enclave thirty years after its much publicized discovery. Kara climbs mountains and crosses several rivers in Mindanao to reach the Tasaday's current dwelling, the town of Tosofu in Lake Sebu in South Cotabato.

Kara meets Lobo, the 12-year old Tasaday poster boy who now acts as the tribe's chieftain. Lobo relates how their life was after they were labeled as a hoax by the foreign media. Kara also meets Dul, one of the oldest members of the tribe. He leads Kara and her I-Witness crew to the famous caves where they were discovered and put them to international prominence during the '70s.

Is the Tasaday story for real or really just a hoax? Kara David tries to unravel the truth behind the forgotten story of the Tasaday tribe in the groundbreaking I-Witness documentary "Tasaday," airing this Monday midnight on GMA-7 after the late night newscast Saksi.