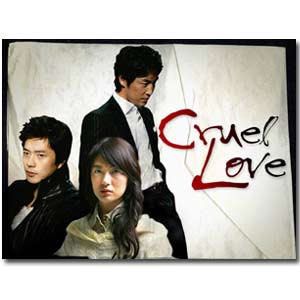 ---

Three hearts get ensnared in a tortuous web of deceit and revenge all in the name of love.

Beginning June 22, GMA-7's latest Asianovela Cruel Love, a drama that explores the intricacies of forbidden romance, will air on the Kapuso Network's primetime block, Monday to Friday right after Adik Sa'Yo.

The drama series heroine is Elaine (Lee Yo Won) who is loved by two men: the married man Stephan (Kim Sung Soo) and the successful businessman Yuan (Kwon Sang Woo). Kim Sung Soo and Kwon Sang Woo previously starred in two top-rating GMA-7 Koreanovelas, in Full House as Luigi and in Stairway to Heaven as Cholo, respectively.

With a promising career as a cellist, Elaine's life becomes complicated when she falls in love with Stephan. To make things worse, Stephan's wife Julienne (Kim Ga Yun) discovers their illicit affair and vows to make Elaine's life a living hell. Soon, Elaine and Stephan decide to end their romantic relationship.

Five years later, Elaine seeks new possibilities as she moved to another city. By a twist of fate, Elaine meets Yuan, who is still in deep grief over the death of his first love, Joan. As their lives crisscross, they quickly develop a love-hate relationship that blossoms into a solid love affair.

Before long, Elaine discovers that Yuan is the step-brother of Stephan's wife. This revelation aggravates even more the resentment of Julienne towards Elaine.

As the ghosts of Elaine's past are revealed, can their love survive the "karma" that comes with it? A life wrecked by lies and infidelity, can Elaine find peace in her heart?

The tremendous pain that only love can bring in Cruel Love will be discovered weeknights beginning June 22 right after Adik Sa'Yo on GMA-7.