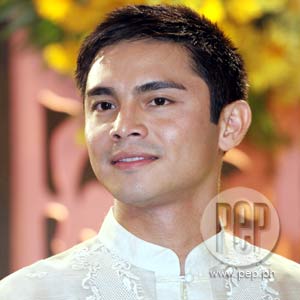 ---

Marvin Agustin is not only successful actor but a successfulentrepreneur as well. One can only imagine how Marvin could ever juggle histime between his showbiz stints and his food business responsibilities. For Marvin, it wasno easy task and he had toiled and started everything from the ground up. Fansof the heartthrob may have also thought about how he was a kid and what exactlydid he do before the limelight of showbiz shone on him. With Showbiz Central's new segment called "Story of Your Life," it gives a clearerpicture on what Marvin had sacrificed to be in what he is now.

Marvin's drive in succeeding on different fields, accordingto him, was because of his lack of means to do such things as a child. "It mademe stronger as a person," he added. "Naging believer ako kasi nothing isimpossible. Kung paghihirapan mo at gusto mo, magagawa mo...I am blessed andmarami pa akong gustong marating sa buhay ko."

What is his goal right now in his life?
"I want to do more movies," admitted Marvin, "gusto komakagawa ng pelikula na makakainspire sa mga tao...sa mga restaurants, we areopening more here in the Philippines. We also plan to open up abroad."

In the sporting world, Marvin plans to join the Olympics viaarchery. "I will join the World Championships this September sa Korea. Talagangpagsisikapan ko."

FOCUS AS HIS BESTTRAIT. Aside from his work as an actor, Marvin also focused on business,excelling in the culinary arts which made him a certified chef and owner of aJapanese restaurant. His mentor Chef Uli said of Marvin, "He is very interestedand very attentive. He was just not here to get a certificate or anything—hereally wants to learn."

Marvin, according to his sister Sheila May, gives his undivided attention whether a matter of interest was big or small. Hitting a specific target orgoal with all effort, may have propelled him to success.
ADVERTISEMENT - CONTINUE READING BELOW

The actor also focused on sports, with archery as hispersonal choice. One member of the Philippine archery team, Rachel Cabral, commented, "Nakikipagsabayan siya sa amin. And then mas naiiwan pa siya sa training-kami pago napero siya kahit pagod, e, go pa rin."

Marie Cabral, also from the team added, "Gusto niyamakalaban ang number one sa Olympics and maka uwi ng gold for the Philippines."
AS A STUDENT. Marvinwas able to finish high school at Saint Rita College thanks to promissory letters andbecause of the help of his 4th year adviser, Ms. Perla Mansibang, who became his secondmom. She narrated how she helped Marvin during his times of need.


Ms. Perla reminisced, "Hindi ko talaga makalimutan noondinala ako ng librarian sa library at sabi na 'Ms. Perla, ang estudyante mo maykasalanan. Tignan mo ito, siya ang humiram ang encyclopedia...bakit napilas angpage na ito? Nasaan ang page na ito?'"

When she asked Marvin where the missing page was, he juststood silent. After a while, he admitted that he tore out the page since hecannot afford to buy an encyclopedia. Touched by his honesty, Ms. Perla found a way to helpMarvin by asking some students if they had a similar encyclopedia. Upon finding one,she replaced the one Marvin tore out.

Years after graduating from school, Marvin returned thefavor by giving out money and finding time for charity. "He is very much humbleto really go back kung saan siya nanggaling," said his dean, Dr. Belinda Quiño.

Years after, Ms. Mansibang could only say that Marvin wasan amazing young boy and she never thought that he would end up being very successful. "Onething I like of him, e, focused ang batang ito."

The story shared by his advisor brought laughs on Marvin'spart as he was quick to say, "Huwag niyong tutularan yun. Sa kagustuhan ko natapusin ko research ko noon, at makapag present, e, I had no choice but to doit. Do not do that part mga bata. Inako ko kasalanan ko at buti naman maytumulong. Maraming salamat kay Ms. Mansibang. Ang words na sinabi niya sa akinnoon made me finish my studies."
ADVERTISEMENT - CONTINUE READING BELOW
For Marvin, the main lesson he learned at school was thatyou cannot fake yourself or other people. "You have to be honest mostespecially to yourself. Ako, nabuhay din sa dasal, walang tigil na dasal."

HEAD OF THE FAMILY. Marvin became the headof the family ever since his dad got jailed when he was young. What happened tohis dad made him mature early and became a dad to his sisters. At a young age,Marvin entered odd jobs just to pay the bills. According to his cousin Kring,he did jobs as a mascot, a waiter and even delivered water for the neighbors.He also took in empty softdrinks bottles to deposit at his school's (Saint RitaCollege) canteen. He even sold puto pao at school.
His mom Theresa added, "One time, naniningil siya at yungsinisingil niya pinatayan siya ng ilaw. Talagang naghihintay talaga siya salabas."
In a serious tone, she said, "Ang lagi niyang sinasabi saakin noon na 'Mommy, ayoko na bumalik tayo sa dati. Ayoko na nakikitang umiiyakka at nagiisip tayong lahat. Pag bubutihin ko.'"

With all those difficult jobs, did Marvin thought duringthose times that he would be successful in all that he did if he applied it asan adult?
"I was actually twelve, thirteen, fourteen," said Marvin."Pag ganun ka pa kabata, e, hindi mo pa siya iniisip yung bukas, yung future, orkung ano magiging ka. I was surviving with my family. Gusto lang namin na abutinpa kami bukas. Like nga sinasabi about the bote, at that time, pamasahepapuntang eskuwela, e, problem na in our part kaya we were just surviving.Looking back, it made me stronger and huwag ka lang susuko sa buhay. Hangga'tmay buhay may pag-asa."

Marvin admitted that there were a lot of times when hethought of giving up. He coped mainly because of his mom and his siblings."Nalilito na ako with my responsibility," said Marvin, "brother lang pala akosa kapatid ko and son pala ako sa mom ko. Minsan nalilimutan ko na maglambing.Nakakalito minsan with all the responsibilities na kailangan mo gawin."
ADVERTISEMENT - CONTINUE READING BELOW

So what was the lowest point of his life?

"When my dad went to jail," said Marvin. "I was only sixteenat the time and medyo mabigat ang pinagdadaanan namin at nawala pa ang isangparte ng buhay mo sa iyo. But I know na kailangan gawin iyon at may ikinahatnanna maganda. Look, my dad is well and working for a company and sa kumpanya namin hehelps us so much with everything. Naging mabuting tao ang dad ko."

Marvin also admitted that he felt bad at times before but heclaimed that anger should be released and forget about it, "Or else mabubuya kana mag galit sa mundo," smiled Marvin. "Bakit ka pa magagalit? You're justpunishing yourself."

When his schedule permits, Marvin and his family have Sundaylunch. "I miss my dad and I don't get to be with him very much," said Marvin.

For his mom, all she had to say about her son's life storywas, "Siguro yung mga nangyari sa amin before, e, nagpatibay sa kanya. Mabutingtao siya at narating niya kung ano siya ngayon."