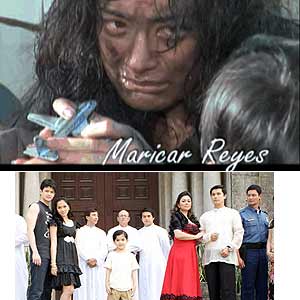 ---

Maricar Reyes is deglamorized as she takes on the challenging role of portraying a greasy vagrant with a gloomy past.

Before the Star Magic talent is seen on the romantic teleserye Precious Hearts Romances, Maricar will be part of the touching drama May Bukas Pa.

She has been through one tough hurdle because of the infamous video scandla but it has just made her stronger and has dared her more to face life head on. As she enters the TV series on primetime, she is set to deal with another challenge: portraying the character of Ina.

Ina (Maricar) is a dirty vagrant with a back story that promises to melt the hearts of viewers. People despise her smell and physical appearance, not knowing that behind the dirt and unpleasant scent, is a beautiful woman whose heart has been broken. Ina's encounter with Santino (Zaijian Jaranilla) will distance her from the discrimination she has been confronting ever since she lost her mind.

What occurrence in Ina's life has made her become a 'wanderer'? When Ina meets Santino, how will this change her life?

Find out as one strong woman shows her acting skills on television this week on May Bukas Pa, Mondays to Fridays, after TV Patrol on ABS-CBN.