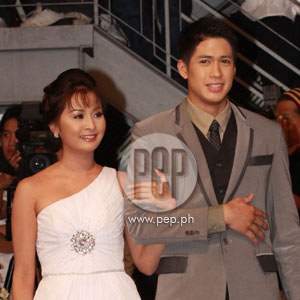 ---

The Aljur Abrenica-Kris Bernal tandem that debuted on thehit reality show StarStruck: The NextLevel in 2006 has surely come a long way. Dubbed as the royal couple of daytime drama series because of the impressive ratings of theirDramarama show Sine Novela Presents:Dapat Ka Bang Mahalin?, the love team will finally be tested on primetime. Kris and Aljur will thrill audiences in All My Life,GMA-7's newest primetime soap opera.
Aljur and Kris must be overwhelmed by this latestachievement. In the press conference for the show held last June 23, which wasset up like a wedding reception, Kris entered the venue holding Aljur's arms. Shecouldn't stop her tears from falling. Seconds later, Aljur began to cry too.
Amdist the applause of the crowd gathered in Studio 5 of GMA Network, the two went up onstage andexchanged sincere vows to each other. Kris asked Aljur if he would be loyal toher, and he promised that he will protect her, no matter what. They supposedlysaid this while they were in character—in short, they should be acting thevows. But the one-minute kiss that followed the exchange of solemn promisesseemed to say that two are romantically involved off-screen.
Aljur and Kris started being on-screen partners in Boys Nxt Door, the youth-oriented realityshow that followed their triumph in StarStruck. This was followed by Zaido: Pulis Pangkalawakan and Dyesebel, where they play supportingcouple roles.
The biggest break for the Aljur-Kris tandem was to play leadroles in Sine Novela Presents: Dapat KaBang Mahalin? . It is recognized as the Kapuso Network's highest rating afternoon soap opera todate, with ratings reaching as high as 32.4% during its April 30 episode.
ADVERTISEMENT - CONTINUE READING BELOW
Director Mac Alejandre, who co-directed the new soap withAndoy Ranay, said
All My Life
will launch Aljur and Kris as the new big love teamof the era. He said the two young actors exude a new kind of magic, a"fragility" not found in other screen couples.
"Hindi lang dahil sa may magic sila, e, hindi lang 'yon, e. Pero 'yong ang pinaka-iba sa kanila yung gusto mo silang alagaan. 'Pagnakikita mo they evoke a certain emotional response that makes you care forthem. That makes you believe that you are one in their desire, to be able tonot only make it in the industry, but to convey the belief that love is worthfighting for.
"Aljur and Kris have such a bright future ahead of them.Para sa akin malaking bagay na may dalwang batang nangarap. May dalawang batanghandang magtrabaho para matupad ang pangarap nila. At ang feeling ko higit salahat malaking bagay na ang ang mga taong nakapaligid dito sa dalawang batangnangangarap na 'to eh naniniwala at kaisa sa mga pangarap nila. I think that isthe beauty of All My Life, from areality show that was StarStruck, they evolved into a promising couple thatdeserved a very bright future in the industry," explained the director.
SYNOPSIS. All My Life tellsthe story of two wealthy families, the Estrella family and the Romualdezfamily. The Estrella Family consists of Romano (Zoren Legaspi), Amelia (Gellide Belen), and Romina (Kris Bernal), while the Romualdez family consists of Gary (JayManalo), Marita (Lani Mercado) and Jules (Aljur Abrenica).
Jules, when he was a child, was a member of the swimmingvarsity team in his school. One day, he invited his best friend Luke, Romina'sbrother, to swim in the sea. Luke drowns, and Jules was blamed for theincident. The guilt-ridden boy promised Romina that he will takecare of her no matter what happens. But the good ties of the two families wereimmediately severed, and the two children were separated.
Years later, the two meet again. Jules grows up to be areliable and industrious young man, who was forced to work early to become thebreadwinner of a now poor family. Romina, on the other hand, grows up to be mean andsnobbish.
ADVERTISEMENT - CONTINUE READING BELOW
But will the two rekindle their own friendship? Will Julesbe revisited by guilt? Will Romina forget the past and fight for her true love?
Find out in All MyLife, to be shown on Monday, June 29, right before 24 Oras on the GMA Telebabadprimetime block.