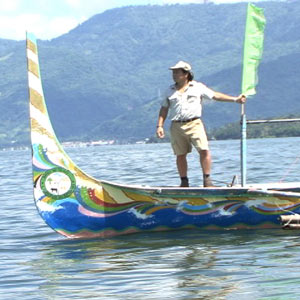 ---

Kuya Kim Atienza takes his adventures to the nextlevel as he goesas far as the Taal volcano's crater just to find out if Stegodonts usedto live in the Philippines this Sunday (June 28) in the realityadventure travel show Matanglawin.


Stegodonts, who are known ancestors ofelephants and mammoths, were said to exist in the country during the PleistoceneEra but were completely wiped out when Taal volcano erupted. Experts actuallyretrieved stegodont tusks in the area that further proved their existence.


On his quest, Kuya Kim also discovers rareanimals like the martinez which can talk like a mynah as well as marinespecies tawilis and duhol which can only be found on Taallake.


Relive Kuya Kim's adventuresin Matanglawin books now available in leading bookstores nationwide. Learn more about Taal Volcan in the June 28 episode of Matanglawin, airing this Sunday, 11:00 AM on ABS-CBN.