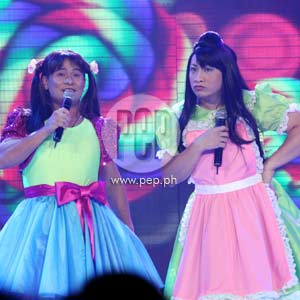 ---

Beginning this Monday, June 29, the country's craziest primetime game show, Hole in the Wall, squeezes to its new timeslot from 5:30 pm to 6:00 pm after Chill Princesses.

The comical duo of Yaya and Angelina will treat Hole in the Wall viewers to a new level of excitement and comedy with the game show's new set of oddly-shaped holes cut from gigantic walls the studio contestants must squeeze into and the jackpot prize worth P2 million pesos!

This Tuesday, June 30, its going to be a tough match between the JAI HOLE Team of Marian Rivera, Paolo Ballesteros, and Sheena Halili against the WHOLE Team of Marky Lopez, Matteo Guidicelli and Arci Muñoz. Whose team will face the Jackpot Wall and bring home the jackpot prize?

And on Wednesday, July 1, whose bodies will be pushed straight to the pool and be a "loser" at the end of the game? Will it be the TAMBUK2 Team of Wendell Ramos, Nikki Daculio, Mosang or the BUQTU Team of Dennis Trillo, John Feir and Beverly Salviejo?


According to data from AGB Nielsen, Hole In The Wall posted a rating of 22.4 % in Mega Manila compared to the ABS-CBN show Boys Over Flowers, which received 20.8% last June 25, 2009.


Televiewers are hooked on the hilarious antics of Yaya and Angelina as they cheer on the studio contestants while they twist and turn to fit their bodies through the walls. Also, everyone is glued to Edouard, the gameshow's lifeguard who is Yaya so-called "love interest."

Don't be a "loser" and join the side-splitting duo of Yaya and Angelina in Hole in the Wall, Mondays to Fridays, 5:30pm after Chill Princesses and before All My Life on GMA-7.