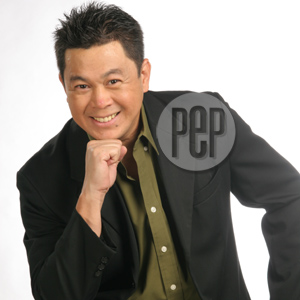 ---
Mastermatchmaker Dennis Padilla is the host of SolarEntertainment and RPN's new reality dating show. Sabini Nanay premiered last Friday, March 16, with a mother who has high standardsfor her son's date: she should be a car lover, a good entertainer, and a romantic person. These werethe qualities that the mystery guy's mother is looking for among the firstbatch of the show's searchees—selectedgirls of Bay Walk Bodies: Wella, Laina, and Kissa.
With host DennisPadilla, the three girl searchees lined up for their first trial—the car wash challenge. Clad in sexyoutfits, the trio thoroughly scrubbed, rinsed, and polished the car. Even asthey were soaked, they had to prove their worth to the matriarch. After thefirst challenge, the girls were then asked to do the second test where they hadto sing and dance in order to show how entertaining they were—one of the qualities they mustpossess to win the challenge. In line with the last criterion, the searcheeswere again called by Dennis and were given instructions to write a poem anddeliver it before the strict mystery guy's mother to please her with theirromantic lines.
After all thechallenges and the naughty side trips and playful daunting of Dennis, themystery guy was revealed and introduced to the girl searchees. With the girls anxiously waiting toknow whom among them will be chosen, the fussy mom coldly announced that herchoice was Kissa, the 22-year old searchee from Quezon City.
Who will be the next batch of girl searchees who willdare to challenge the next mystery guy's mom? Who among them will enjoy anall-expense-paid dream date? Find out on the next episode of
Sabi ni Nanay,
aired every Friday night at 8:30 p.m. on RPN-9.