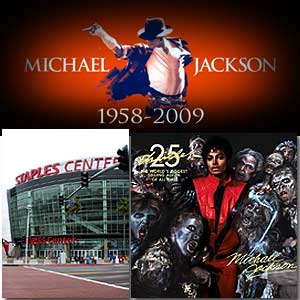 ---
For those who missed the much-anticipated memorial service, you have another chance to bid farewell to the legendary musical icon, Michael Jackson.


MYX music channel will be re-airing The Michael Jackson Memorial on July 8 (Wednesday) at 1:00 pm and 10:00 pm (Manila time). Thepublic memorial service for Michael Jackson took place at Staples Center inLos Angeles on July 7, 2009. Participants included Stevie Wonder, Mariah Carey, LionelRichie, Queen Latifah, Kobe Bryant, Magic Johnson, Jennifer Hudson, John Mayer and Brooke Shields.


MYX will be also be airing Farewell,Michael Jackson: The MYX Music Memorialon July 11 (Saturday)at 12:01 am. Due to insistent public demand, MYX will play MichaelJackson's biggest music videos for 24-hours. This special will featurethe King of Pop's songs, commentaries, trivia and updated interviews fromlocal artists regarding the passing of a true icon and his contributionto the world of music.

Regular programming on MYX resumeson July 12 (Sunday) starting at 12:00 am.


MYX is on Sky Cable Channel 23and is available on SkyCable Gold, SkyCable Silver and other quality cableoperators nationwide.


ADVERTISEMENT - CONTINUE READING BELOW