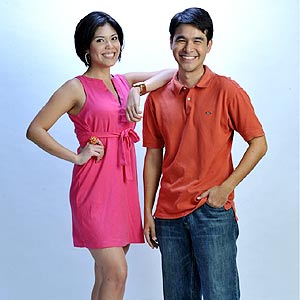 ---
Join the Umagang Kay Ganda hosts mark two years of news, information,and entertainment as they kick off their week-longcelebration
starting this Monday (July 13).

The morning show of ABS-CBN welcomes on board Ginger Conejero and Atom Araullo as its new anchors joining other UKG anchors Pinky Webb and Alex Santos who bring you the latest news; Anthony Taberna on opinions; Kim Atienza on trivia and new information; Bernadette Sembrano on public service; Donita Rose on parenting; Winnie Cordero on consumer issues; and Rica Peralejo on trends and lifestyle.

"Atom represents today's youth whoare sensible, adventurous, and aware of what's happening in thecountry; while Ginger is our showbiz news authority who will bring thelatest celebrity buzz and news," said executive producer Cheryl Favila.

Ginger, who officially startedanchoring the entertainment news segment last Monday (July 6), embarkedon a career in broadcast journalism after winning Miss Philippines-Airin 2006. The Fil-Am beauty queen built her credibility as anentertainment journalist by producing reports for TV Patrol World before being chosen to anchor Mornings@ANC on ABS-CBN News Channel.

"I am excited and at the same timenervous because I have really big shoes to fill. The showbiz segment isthe one of the most-watched segments in UKG and previous anchors likeOgie Diaz and Rica Peralejo already made their marks," said Ginger, whois now sporting a new look.

Meanwhile, Atom will start reportingon "Boto Mo, iPatrol Mo" news on July 20. Atom stated young in themedia by being part of children shows 5 and Up and ChikitingPatrol. He hosted Studio 23's morning program Breakfast in 2000before becoming a field reporter for UKG. He is co-anchoring the weeklycurrent affairs show Kalye and reports for TV Patrol World.

"Umagang Kay Ganda is close to myheart because it is where I started out as a reporter. Joining theshow as an anchor will enable me to face a different group of people,who I don't usually reach whenever I do my reports on primetime," saidAtom.

For its anniversary week, join theanchors on Monday (July 13) as they reminisce UKG's beginnings and lookback at their most memorable experiences on the program. They paytribute to the hardworking Filipinos on Tuesday (July 14) and produce aspecial 'kabuhayan' episode on Wednesday (July 15). Birthday girlGinger faces a Tagalog showdown with Donita Rose and a dance challengewith Mickey Perz on her birthday bash on Thursday (July 16). BandsBloomfields and Rock Steddy cap the weeklong celebration with amini-concert on Friday (July 17).

UKG also has a dynamic pool ofreporters who roams around the metro and patrols all night long tobring up-to-date news for viewers.

Don't miss the 2nd anniversary celebration of Umagang Kay Gandabeginning Monday (July 13), 5:30 AM on ABS-CBN.
ADVERTISEMENT - CONTINUE READING BELOW