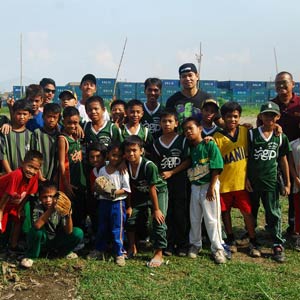 ---
The Philippines gained international prominencewhen the likes of Manny Pacquiao, Efren "Bata" Reyes, and Paeng Nepomuceno roseto international stardom after achieving several international titles in theirrespective sports. They have wowed the world with their superb athletic skillsand put the Philippines in the map of the sporting world.
Bringing honor to the country is also what a groupof kids from Tondo, Manila hopes to achieve. They are members of the SagipBaseball Team, organized by Gawad Kalinga as a way to prevent poor kids fromengaging in illegal vices and cart them off the streets. Amidst the povertythat surrounds them and living just beneath the shadow of the infamous SmokeyMountain, these kids are training arduously to become the country's first everbaseball champions from the slums.
12-year old Bugoy dreams of visiting other places.By joining the Sagip Baseball Team, he believes he could make this dream cometrue. According to his friends, Bugoy used to be the community's bully, but hehas since changed after being recruited to join the team.
ADVERTISEMENT - CONTINUE READING BELOW
Brothers Balog and Al-Al are the newest members ofthe baseball team. Both garbage collectors, Al-Al and Balog never miss a day oftraining despite their rigid work. Al-Al is currently the youngest and smallestmember of the group. Because of his diminutive size, Al-Al could hardly hit theball, but this does not discourage him. Al-al knows that proper training couldmake him better.
The team has been competing for some time now. Infact, during the 2009 Little League Philippine Series held in Luneta and SmokeyMountain, the Sagip Team was able to reach the semifinal round. Unfortunately,the better-trained and well-equipped players from private schools beat them tothe championship.
Award-winning journalist Jay Taruc presents aninspiring documentary about the struggles and triumphs of the small but mighty"League of Hope," airing on I-Witness this Monday midnight over GMA-7.