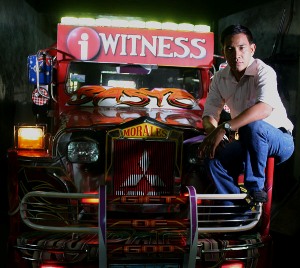 ---
More than six decades have passed since thejeepney, a World War II leftover vehicle, was modified into a public transport.The jeppney's robust built and dependability propelled it to the status ofbeing the Philippine's national transport, a symbol of our culture andingenuity.
But due to lack of technologicalinnovation, jeepneys are now deemed highly inferior to the trains of therailway transport system. The LTFRB even announced recently that the number ofjeepneys in Metro Manila will be lessened significantly. Is this the start ofthe jeepney's eventual demise?
In his first documentary for I-Witness, GMASenior Reporter and Banal director Cesar Apolinario joins threecharming jeepney drivers as they traverse through the busy roads of Luzon andtell amusing stories about life in the fast lane. Direk Cesar won the Best Director trophy during the 33rd Metro Manila Film Festival.
"BASTADRIVER, SWEET LOVER"
Kanois the perfect jeepney driver who exemplifies the famous phrase "basta driversweet lover." He has 7 children from four different women, all of whom were hispassengers before. Kano's route stretches from Montalban, Rizal to Cubao QuezonCity. To augment his income, Kano illegally cuts his trip short to steer clearfrom heavy traffic in Aurora Boulevard, a main road in Quezon City alsoserviced by other competitors like FX taxis and the extensive LRT 2 line.
ADVERTISEMENT - CONTINUE READING BELOW
"HOMESWEET HOME"
LoloPilo has been driving his jeepney for more than half of his life. For 38 years,he says he has never regretted choosing jeepney driving as a livelihood. LoloPilo even declares that his love for his ex-wife compares poorly to the devotionthat he gives to his 14-year old jeepney, where he also prefers to stay andsleep alone.
"JEEPNEYEXPRESS"
Fourhours away from the City of Pines, a remote community bereft of technologicalwonders relies only on the jeepney to survive and support the whole populace'sneeds. Residents of Gadang in Benguet usually ask Bert, one of the drivers ofthe only four jeepneys that travel back and forth the town, to buy them theirhousehold goods and supplies.
From the chaotic streets of Metro Manila tothe mountain edges of Benguet, Cesar Apolinario takes on the driver's seat thisMonday midnight in this amazing road documentary "Tatlong Pasada," airing onI-Witness after the late night newscast Saksi on GMA-7.
ADVERTISEMENT - CONTINUE READING BELOW