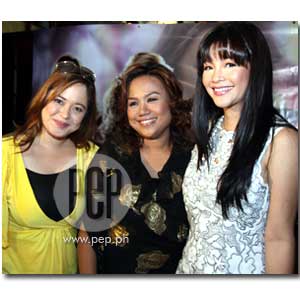 ---

Long before Regine Velasquez earned thetitle as Asia's Songbird, she was a struggling and aspiring singer tirelesslycompeting in various amateur singing competitions around the country.
Looking at Regine's outstanding credentials,it is of course easy to drop the word "unparalleled" in describing the Songbird'sachievement as an artist. But unbeknownst to many, Regine's talent during her difficultstartup days was oftentimes eclipsed by an equally ambitious talented singernamed Minerva "Eva" Castillo.
Those familiar with Regine and Eva'sstory can attest to how the two competed intensely in the amateur singing circuit.
REGINE-EVAREUNION. Butwhile talent and ambition served as a common factor between the archrivals,Eva's rocky personal life unfortunately outweighed what supposed to be apromising career. And while Regine soldiered on to fulfill her dream, Eva lost gripand tumbled into obscurity, leaving her with her memories, 300-plus trophies and the admiration of critics and supporters.
It was a few months ago when GMA-7featured Regine in its special offering titled Roots to Riches. The showtraced Regine's long and hard fought way to stardom, which automaticallyincluded her long forgotten rival. It was a touching reunion, with the contrastin Regine and Eva's fate revealed to audiences.
ADVERTISEMENT - CONTINUE READING BELOW
The meeting eventually rekindled thefriendship between the two old singing rivals. Fortunately, Eva's reemergencein television paved the way for a second chance as TV guestings and singingengagements started knocking on her door following Roots to Riches.
TWOSIDES OF THE COIN.Eva's life story likewise intrigued the creative team behind GMA-7's SRO Cinemaserye Presents.
"Marami na kong bio-pics na ginawa parasa GMA so when we sat down with Eva, our team thought that this is just one ofthose interviews," director Jun Lana told the entertainment press last week.
"But when she told us her story werealized that this is a special story to see the contrasting struggles of thesesingers na nagsimula noon. Nakita natin silang magtagumpay, kumanta atnapakaraming pinagdaanan. At nung interview pa lang pinaiyak na kami ni Eva.You know when we write stories like this, kaming mga writers, we learn a lotfrom people. It's really an honor listening and writing their stories becauseang dami naming natututunan. And I really feel that this is one specialpresentation of SRO that you shouldn't miss."
ADVERTISEMENT - CONTINUE READING BELOW
And with that, SRO Cinemaserye reveals that story behind Eva's struggle: a lifeplagued by poverty and series of ill-fortune. Behind Eva's unique talent andearly success was a troubled soul trying hard to rise above the constantridicule of non-believers.


Minerva "Eva" Castillo became a singer at the tender age of 9. She endured a childhood of emotional and financial poverty. Eva was bullied, ridiculed and taunted because of her looks. After marrying at the age of 17, she pursued a better-paying job to make ends meet for her family. Throughout these trying times, her career fell and Eva retired from performing.
It was an inspiring tale of ambition,shattered promise and eventual redemption. As Regine Velasquez pointed out during the press conference, "It was never too late for a second chance."
Portraying Eva is TV host-actressManilyn Reynes and she will be joined by Glaiza de Castro and Renz Juan. RegineVelasquez shows her support by appearing in the series in a specialrole.
ADVERTISEMENT - CONTINUE READING BELOW
Catch SRO Cinemaserye presents The Eva Castillo Story starting on July 23right after Cruel Love on GMA-7.