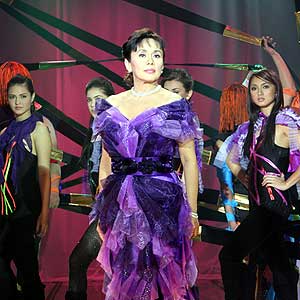 ---
In the trailer of the upcoming show Vilma: A Woman for All Seasons, Megan Young is being instructed toslap Vilma Santos as part of their workshop.

During the press conference of the ABS-CBN show last July 22, the presscuriously asked Ate Vi if Megan actually did slap her. The Star for all Seasonsrecalled that incident with a smile. "Si Megan talaga, hinihintay ni Direk Laurice[Guillen], ang tagal! Hindi talaga ako masampal hanggang nag-cut na si Direk.And then, tinanong siya, 'Bakit hindi mo sinampal?' Hindi niya magawa. Hahaha!"

Given the stature of Ate Vi in the entertainment industry, it is easy tounderstand why Megan would hesitate to raise her hand against the veteranactress.

Ate Vi has captured the attention of the public ever since she starred asTrudis Liit in the 1963 film of the same name. Since then, she has starred in 230films (including those where she had cameo roles) and bagged numerous actingawards from various award giving bodies in the Philippines.

Her career became even more colorful when she became the mayor and eventually,the Governor of Batangas. Still, she has not forgotten her showbiz roots andwith the permission of her constituents, she has taped scenes for her upcomingfilm titled In My Life. This StarCinema film will mark Ate Vi's return to the big screen since she was last seenin the 2004 movie Mano Po4: My Love.

Vilma: A Woman for All Seasons was originallyconceptualized as a two-hour program but management decided to expand it tofive parts to give viewers an intimate look into the life and times of Ate Vi.

The five-part TV special will be aired on all Saturdays of August. Presented ina documentary-magazine and reality TV format, the various part of Vilma will be hosted by different hostsnamely Claudine Barretto, Angel Locsin, Vhong Navarro, Luis Manzano and JohnLloyd Cruz.

The first episode (August 1) ishosted by Claudine Barretto who has worked with Vilma in the drama film Anak. This will highlight a specialacting workshop by Vilma herself in collaboration with respected directorLaurice Guillen for hand-picked Star Magic talents who will imitate scenes fromher unforgettable movies.
ADVERTISEMENT - CONTINUE READING BELOW
This exclusive workshop, also called a master class, wasconducted by Ate Vi with the help of Direk Laurice Guillen. Viewers will beable to see Kim Chiu act out a crucial scene in The Dolzura Cortez Story (1993). Pinoy Dream Academy scholar Bugoy Drilon portrays the doctor whowill tell Kim's character that she has AIDS. The singer-actor will then bearthe brunt of Kim's anger as she slaps him hard.

Another exciting scene to look forward to is the one culled from Broken Marriage (1983). Coco Martin andNikki Gil reprise the roles of Christopher de Leon and Vilma Santos for a briefre-enactment of this family drama.

On August 8, viewers will see Vilmaas a TV host, dancer and performer. With funny man Vhong Navarro addinglaughter with his comical antics and wacky remarks as the host, the Star forall Seasons shares some of her insights and experiences during tapings andshootings: from unavoidable health concerns and even to romantic problems withher good-looking leading men. Viewers will relive the days of her defunctmusical-variety show, Vilma, whereshe used to do her special numbers in colorful costumes and danced complicateddance routines choreographed by Maribeth Bichara.

Joining the prized actress in the dance workshop are young stars ShainaMagdayao, Angelica Panganiban, Iya Villania, Empress Shuck, Nina Dolino,Princess Ryan and Dianne Medina. Definitely something to look forward to is the much-awaited dance numberof Vilma with the said stars!
ADVERTISEMENT - CONTINUE READING BELOW
Next episode (August15), fans and supporters will have an exclusive preview of Vilma's privateworld as one of the young actresses closest to her heart, Angel Locsin, hoststhis very personal chapter. Vilma welcomes viewers into her home in Alabangwhich is the very first time her private quarters will be shown on Philippinetelevision. Featuring the prized actressas a wife, mother, sister and friend, viewers will see how she spends her free time athome and what a "normal" family day is in the life of Governor Vi.
On the fourth Saturday (August22), Vilma is shown as an empowered Filipina leader being the hands-on andthe first woman Governor of Batangas and a U.P. Gawad Plaridel Awardee for herachievements as an actress and a public servant.
Capping off this five-week special (August 29) is the making of Vilma's upcoming movie, In My Life. Her eldest son Luis and JohnLloyd who serve as the hosts of the final installment. Be the first to view moviescenes and events shot at the colorful city of New York, listen to selectedinterviews with the cast and crew as well as trivia about the much-anticipatedfilm and get an exclusive sneak peek into the never before seenbehind-the-scenes shots.
ADVERTISEMENT - CONTINUE READING BELOW
Mark your calendars and block off your Saturdayevenings for the whole month of August! Have a date with the one and only Starfor all seasons and catch Vilma: A Womanfor all Seasons TV special on all Saturdays of August, after Maalaala Mo Kaya on ABS-CBN.