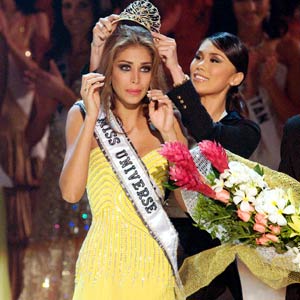 ---
Whenthe best from all creation come together, it is the most beautiful day in theuniverse.

About 80 of the finestand most gorgeous women from across the globe will gather in Bahamas to competefor the world's most coveted beauty title of Miss Universe, including Philippines' bet Pamela Bianca Manalo.


Beforewinning the Bb. Pilipinas-Universe title, the 23-year-old model-flightstewardess used to be one of the hosts of Studio 23's variety show Rush TVAtin 'To. Bianca belongs to a family of beauty queens. Her sister, Katherine Ann Manalo, was a semi-finalist in the Miss World 2002and her aunt Nenita Ramos,was a semi-finalist in the MissInternational 1968.

Miss Universe 2008 Dayana Mendoza, who hails from Venezuela, has traveled across the globeas an advocate for HIV/AIDS education, research and legislation. She willcrown her successor in August during the pageant to be hosted by AccessHollywood co-anchor Billy Bush and Celebrity Apprentice star Claudia.

Thismarks the third consecutive year that ABS-CBN was chosen by the Miss Universeorganization to be its exclusive media partner here in the Philippines. ABS-CBNalso aired the 1994 Miss Universe pageant held in Manila, where Miss India Shusmita Sentook home the crown.
ADVERTISEMENT - CONTINUE READING BELOW

Whowill be crowned the next Miss Universe?

Watch it happen in the Miss Universe 2009pageant live on ABS-CBN on August 24 (Monday) at 9:30 AM with a primetimetelecast the same day via Velvet (SkyCable channel 53) at 8:00 PM; on August 25(Tuesday), 8 PM on Studio 23; and on August 27 (Thursday), 10 PM on ABS-CBN. Catch the replays on Velvet on Wednesday (August 26) at 8:30pm and on Saturday(August 30) at 10 pm.