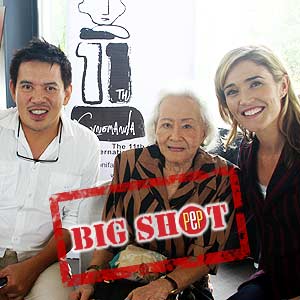 ---
Brillante "Dante" Mendoza's certificate that he received asBest Director of the Cannes Film Festival was displayed at the top floor ofFully Booked, Bonifacio High Street, earlier today, August 4. His other framedcertificates were on display as part of the press conference to announce thatthe 11th edition of Cinemanila will be held from October 15 to 25, 2009in Bonifacio Global City in Taguig.

Given his impressive credentials as a filmmaker, it is not surprising to learnthat Direk Dante has been tapped to be the chairman of the jury for Cinemanila2009.

In 2006, his film about a young Aeta girl titled Manoro bagged the GrandPrize in the Digital Lokal section of Cinemanila. Three years later, DirekDante is now the one in a position to select the films that will win in thelongest-running film festival in the Philippines.
ADVERTISEMENT - CONTINUE READING BELOW
In fact, the award-winning director told the pressduring the launch of Cinemanila, "It's a privelege to judge other people'sworks. Nakakataba ng puso."
Aside from Direk Dante, the other key people who conducted the presscon wereAmable "Tikoy" Aguiluz VI, founding festival director of Cinemanila; RobertMalengreau, who heads the international desk of Cinemanila; Anima Aguiluz-Slangen, festivalco-director; and Kaye Tinga, co-chair of the 2009 executive committee.
Mrs Tinga is the wife of Taguig mayor Freddie Tinga, who has offered his cityas a "long-term" home for the annual film festival.
TALK ASIA.
Next month, Direk Dante will be featured in thehalf-hour program
Talk Asia
, which provides an in-depth look ofnewsmakers in the fields of arts, politics, sports and business.
Anna Coren of
Talk Asia
arrived in the Philippines yesterday, August 3,and left this afternoon to return to the CNN office in Hong Kong. After thepress conference of Cinemanila, the interviewer chatted briefly with AnitaLinda and Direk Dante as part of this special episode.
ASIA-PACIFIC SCREEN AWARDS.
Another CNN show will feature Direk Dante in honor of his great achievement inthe international film circuit.
PEP (Philippine Entertainment Portal) was able to interview Karen Berkman, theproducer of the said CNN show. She and her crew arrived from Australia lastFriday, July 31, in time for the awarding ceremony that was given to DirekDante at the National Commission for the Culture and the Arts. They will shootfootage of Direk Dante for about a week, as he goes about his duties as afilmmaker.
It will be recalled that in last year's Asia-Pacific Screen Awards, the IshmaelBernal film
Himala
(1982) won as the Asia-Pacific Best Film of All Time.
Berkman explains: "I work for the CNN Asia-Pacific Screen Awards and we'remaking four magazine shows in CNN, which will air around November, one episodea week. It will be screened internationally and it will be used when theAsia-Pacific Screen Awards are announced. We will feature filmmakers around theAsia-Pacific region.
"We came here because Brillante has won Best Director in Cannes and Raya Martinhad a special screening in Cannes so obviously there's something happening inthe Philippines," she said with a smile.
Direk Raya's
Independencia
is the first Filipino film to take part inthe Un Certain Regard section of the 62nd Cannes Film Festival.
"The Philippines has a deep history in cinema," said the producer, who is alsocurrently employed in CNN's office in Australia. "People like Brillante andRaya don't just suddenly appear. They're here because there is a strongfilmmaking tradition here.
"Our purpose is to give filmmakers in the Asia-Pacific region, in this case,the Philippines, the chance to seen and heard."
She says that this their way of helping filmmakers penetrate the verycompetitive film industry abroad.
"Hollywood dominates so much so it's difficult for filmmakers of theAsia-Pacific region—even though they have a wonderful, rich heritage oftelling stories—it's hard for their films to be seen."
Berkman expressed her admiration for Pinoy filmmakers because of their abilityto maximize the limited resources that they have.
"Filipinos make films in a different way that is very, very fast and we'reinterested in that as well. A lot of filmmakers know how to work fast with alow budget. It's nothing like Hollywood," she emphasized.
The 11th edition of Cinemanila will be held from
October 15 to 25
, 2009in Bonifacio Global City in Taguig. Around 100 international and local filmswill be screened in a span of 10 days-from the current toasts of the localindie scene to award-winners and favourites at prestigious festivals such asCannes, Berlin, Rotterdam, Sundance and Pusan. The festival will also featureworkshops, seminars, and master classes. Filmmakers are encouraged to submit theirentries to the various sections of Cinemanila. Details can be found at
www.cinemanila.org