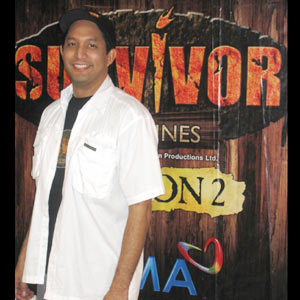 ---
Fans of the GMA-7 hit reality showSurvivor Philippines are getting more and more excited as the August 17premiere of its second season is already at hand. And with the release of thelist of the 16 castaways who competed in Palau, Micronesia, viewers will soon find out who will outwit, outplay and outlast the other players towin the 3 million peso grand prize.


Last season's winner, JC Tiuseco, has become a familiar face in showbiz and he has in fact, been tapped to star in the Kapuso Network's afternoon teleserye Kung Aagawin Mo ang Lahat sa Akin.
UNIQUE CHARACTERS. Just like thefirst season, which was conducted in Thailand, Survivor Philippines: Palau features notable characters thatviewers will want to follow.


Former PBA player Cris Bolado is perhaps the more famous of them all. Every team he played in won thechampionship, and he was also tagged as the "darling of the crowd." Could this"gentle giant" use his luck and charm to be the second sole Survivor?
ADVERTISEMENT - CONTINUE READING BELOW

Hailing from Dagupan, CharlesFernandez is the "raketista," or the all around businessman guy who sellsanything from clothes to beauty products and even e-load.

Carol Gementiza, meanwhile, is the"istriktong guro." Will this season's oldest castaway turn out to be as kind asseason one's Nanay Zita, or will she live up to her "terror teacher" tag?

Maya Segovia, a lady pilot, is alsoa mom. Her aviation skills may help in chartering the game.

Troy Perez, on the other hand, isthe "mentalist." Will his magic and mind-reading skills be enough for him tocontrol the other contestants?

But IT professional Louie Ang istagged as this season's "chick boy." His charm makes fans predict that he willlast the game, even towards the end.

Perhaps the contestant to watch isTara Jane Macias, the sister of Chev Macias, last season's contestant who waseliminated first. Is this "taray queen" back for revenge, and will she lastlonger than her sister?
ADVERTISEMENT - CONTINUE READING BELOW

Will language be a problem forSuzuki Sadatsugu, the "japinoy hunk"? The 21-year old castaway is acriminology student.


EYE CANDY. As with all realityshows, good-looking contestants exist to attract more viewers. In Survivor,however, these "eye candies" don't just exist to model but to also use theircharms to get the game going their way.

Echo Caceres is the "spicy Bicolana"who works as a call center agent.

Justine Ferrer, on the other hand,is the "beauty queen" who manages her own business.

The youngest contestant, MarvinKiefer, is a model and the season's "ultimate crush."
Shaun Rodriguez, meanwhile, is thefitness buff tagged as the "hot dad."

"Probinsyanong tisay" Amanda ColleyVan Cooll hails from Alaska and works as a construction worker.

Jef Gaitan, a student and part-timemodel who has appeared in several TV commercials, is tagged as the "girl nextdoor."

Vlad Nesas, on the other hand, is aself-procalimed "metrosexual" who pledged to use not his body but also hisbrain.
ADVERTISEMENT - CONTINUE READING BELOW

Lastly, Mika Batchelor is the "sexychef" from Coron, Palawan. Will her mouth-watering dishes prevent othercastaways from eliminating her from the game?

Find out on Survivor Philippines:Palau, starting August 17, 2009on GMA Telebabad.