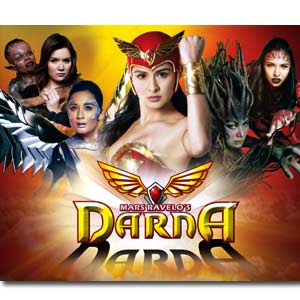 ---
The latest television adaptation ofDarna signifies more than just resurrecting the legendary Pinay heroine createdby legendary Filipino graphic novelist Mars Ravelo.
For GMA-7, the return of Darna also signals the network's return to the fantaserye, a genre that they popularized and consequentlypropelled the Kapuso Network to the summit of the gritty network battle dominated for a longtime by its archrival.
In 2005, actress Angel Locsin assumedthe role of Darna then soared to the top of the primetime rating contest byraking in a whopping 52.1 percent on its fourth episode. That record stooduntouched for almost three years until Marimar(starring Marian Rivera) stripped away the honor by logging in a 52.6 percent grade on March 14, 2008.
When Marimar shattered the record, the so-called fantaserye genre was evidentlystarting to lose its considerable luster and appeal to the viewing public. ToGMA-7's credit, the network obviously understood the declining trend, and asmarketing principle suggests, sought measures to offer variety over predictability.
ADVERTISEMENT - CONTINUE READING BELOW
FLYINGBACK ON AIR. Thepast couple of months saw primetime viewing ratings taking a rigid turn. Withthe competition getting stiffer and stiffer, the Kapuso Network perhaps saw it fitto resort back to a tested winning formula.
On Monday, August 10, Darna will mark her return to primetime viewing.
This time around, Marian Rivera will donthe red and gold colors of the beloved Pinay superhero.
Bagging the coveted role can be attributed toMarian's previous success in the primetime TV arena. Marimar, Dyesebel and Ang Babaeng Hinugot Sa Aking Tadyang allfared exceptionally well in terms of figures and viewer acceptance, prompting GMA-7 chairman Atty. Felipe Gozon to label the Filipino-Spanish actress as the "Queenof Primetime."
The pressure of living up to Darna'sreputation as one of the iconic figures in Pinoy pop culture can beintimidating to any actress tapped to represent the heroine. Trying to liveunder the shadow of Darna's previous boobtube success is another chip Marianhas to contend from now on.
ADVERTISEMENT - CONTINUE READING BELOW
"Alam ko na isa yun sa mga factor nakailangan, nagri-rate talaga ang show. Pero ang importante sa akin, ako siDarna. Ako ang pinili at ine-enjoy ko talaga siya. At importante sa lahat—mula sa crew,director, artista—magkakasundo. Talagang love namin ang isa't-isa," Marian toldPEP (Philippine Entertainment Portal).
NEW TWISTS. Thelatest installment promises to be much better than its predecessor, "withexciting new twists," proudly enthused network executive Wilma Galvante.
Darna tells the story of Narda, anattractive young woman who grows up in an orphanage and lives a happy, quietand simple life until she becomes the heiress of a stone that gives hersuper powers.
Narda eventually meets her childhoodsweetheart Eduardo (portrayed by Mark Anthony Fernandez) at the same orphanage.Hopes of nurturing romantic relationship between the two went kaput after Narda'sfriend, Valentina, fell for Eduardo.
Narda then learns that she is theanointed one chosen to save the world from evil forces. Nursing a broken heart,Narda declines because she believes that a simple and crippled woman like hercannot take such a huge responsibility.
ADVERTISEMENT - CONTINUE READING BELOW
Her refusal simultaneously triggers theinflux of evil forces in the town area. Narda finally concedes to her fate andaccepts her destiny as Darna.
Completing the cast of Narda are Eddie Garcia, Celia Rodriguez, Caridad Sanchez, Rober "Buboy" Villar,Raymart Santiago, Rufa Mae Quinto, Janice de Belen, Rita Avila, JestoniAlarcon, Ian de Leon, Alfred Vargas, Paolo Contis, Iwa Moto, Ehra Madrigal,Francine Prieto, Nadine Samonte, Maggie Wilson, Ricky Davao, Polo Ravales,Angel Aquino, Gabby Eigenmann, Bearwin Meily, John Apacible, Krissa Mae,Roxanne Barcelo, Renz Valerio, Sweet Ramos and Angeli Nicole Sanoy.
Directing the new series are DominicZapata and Don Michael Perez.