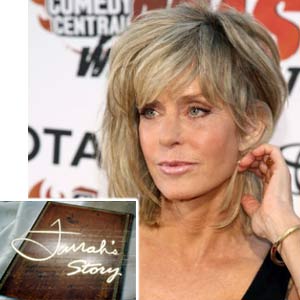 ---
She became famous for her character Jill Munroe in the original Charlie's Angels series, but unknown to some, her early years were spent on baseball and ballet as a regular Texan girl. She was an international star to many, yet to her loved ones, she was a devoted friend, daughter, partner, and mother. In a very affecting documentary, the late Farrah Fawcett chronicles her two-and-a-half year battle with cancer. She passed away on June 25, 2009.


This Sunday (August 9), everyone will have the chance to be inspired by Farrah's Story as it airs for the first time on Philippine television through Q Channel 11.



The documentary is indeed Farrah's story. It was Farrah's idea to capture her fight against cancer on a personal camcorder. And like a video journal, Farrah herself narrates her story, sharing her thoughts and emotions as she undergoes treatments both in the U.S. and in Germany.



Farrah is unflinching in showing the immense difficulty she had to undergo. With her health failing, she eventually hands over the task of filming to her close friend and co-producer Alana Stewart. Also by Farrah's side is long-time partner, actor Ryan O'Neal, who himself was battling another form of cancer, leukemia. Farrah's former Charlie's Angels co-stars Kate Jackson and Jaclyn Smith, her son Redmond James O'Neal, and father Jim Fawcett also appears in the documentary.



Poignant, touching and full of raw emotion, Farrah's Story gives us an uncensored look at what cancer can do to a person and her loved ones.



Watch the absorbing documentary that is Farrah's Story this Sunday, August 9, 9:10 pm on Q Channel 11.

ADVERTISEMENT - CONTINUE READING BELOW