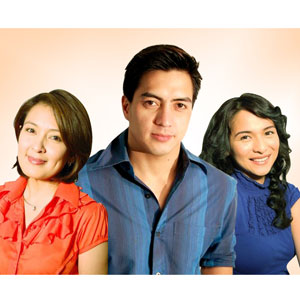 ---
The unique bond betweenmothers and daughters is very profound. But when a brewing dispute interferes with their relationship, can the blood that unites them save and salvage theirlove for each other?

ThisAugust, Dear Friend's latest offering, "Karibal," presents the taleof a thorny love triangle between mother and daughter.

Karibaltells the touching story of the enduring love between mother and daughter.A bond so complex and real, it certainly gives everyone an intimate look at thepowerful relationship between these remarkable women.

Thestory revolves around the brewing love triangle between Cheska (JennylynMercado), her mother Claire (Jean Garcia) and Cheska's boyfriend Darrell(Wendell Ramos).

Cheskafalls in love with her boss Darrell. But their age differences and Cheska'simmature and childish nature hamper their relationship. The two constantlyengage in verbal battles.

Ina few chance encounters, Claire meets Darrell and sparks fly between the two.During Darrell's predicament over his love life, he finds consolation inClaire, who is more mature and understanding beyond her years. What's more,Claire is smarter and more charming compared to Cheska.
ADVERTISEMENT - CONTINUE READING BELOW

Soon,Darrell discovers that Claire is Cheska's mom. And that's when things reallyget complicated. This revelation marks a deep estrangement between mother anddaughter.

CanClaire and Cheska bridge the gap that tarnished their relationship? How willDarrell resolve the conflict between the two women who play important roles inhis life? As the mother and daughter relationship is tested, can this still besaved?

Karibalis directed by Andoy Ranay with Denoy Navarro-Puño as the head writer.
Thefirst part of Dear Friend's "Karibal" airs this Sunday,August 9, right after S.O.P.