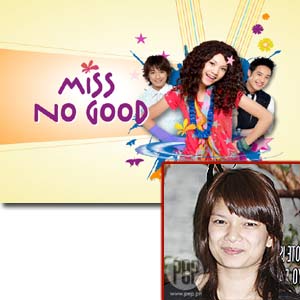 ---
She's not gorgeous but she is totally outrageous and simply BONGGAcious!

Meet Hapontastic's newest sweetheart, Ciara, in the romantic comedy series Miss No Good premiering this Monday, August 10, on ABS-CBN.

Ciara, whose voice will be dubbed by actress Meryll Soriano, is a jewelry store owner with no sense of style at all. She doesn't really care much about her looks until one fateful day, she saw her then chubby childhood best friend Timmy who now happens to be a successful, very good looking and fit young man.

When they were still kids, the two promised each other that they will get married when they grow up. So Ciara decided to give herself a complete makeover. She will accidentally meet Arvin, a tough fashion stylist who happens to be Timmy's best friend, and help her achieve her goals.

Things were going as planned until Ciara found out that Timmy is already betrothed to a classy and sophisticated young woman.

Is Ciara up for a competition? How long will she change herself for the man she loves? What if Ciara and Arvin starts to fall for each other?

After all her efforts to be the perfect woman, little did Ciara know that Timmy is still the same sweet boy that likes her and will accept her for who she really is.

Don't miss the premiere of Miss No Good, this Monday, August 10, at 5:15 PM, before Boys Over Flowers on ABS-CBN.