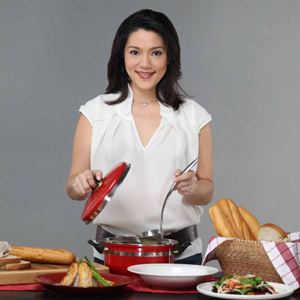 ---
ExpectTV viewing to be more delectable and inspired as Q Channel 11 presents itsnewest ten-minute program, My Favorite Recipes, beginning Monday, August 17.
Hostedby Chef Aileen Anastacio, My Favorite Recipes features recipes that range frommain dishes, soups, salads, desserts, etc. as inspired by a memory of a lovedone, travels, friendship, and the like.
ChefAileen, who is also a co-host of Q Channel 11's dessert show True Confectionsand owner of C'est Si Bon Corp, opens the show with her inspiration for therecipe of the day, which may be anything from an old recipe from a friend, anunforgettable and recent travel, or from daily interactions with family andfriends. She then turns these inspirations to her favorite recipes as she whipsit up in her own kitchen.
Forthe pilot episode of My Favorite Recipes, Chef Aileen goes back to herchildhood days with one of the first recipes she learned at home with hersister: Chicken A La King. Some of the other delectable dishes lined-upon the show's first week are Mushroom Crespelle, Spaghetti and Meatballs,and Breakfast Burrito.
ADVERTISEMENT - CONTINUE READING BELOW
Beinspired and go back to simple yet deliciousdishes that only My Favorite Recipes can give.
Join Chef Aileeneveryday, starting August 17, as she makes life's delicious moments into herfavorite recipes. My Favorite Recipes airs weekdays 10:30 am, 11:50 am, 6:10pm; Saturdays 11:15 am, 2 pm, 8:10 pm and Sundays 11:50 am, 2 pm, 9:10 pm onlyon Q Channel 11.