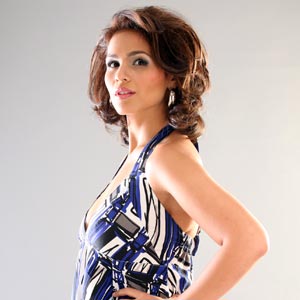 ---
Coming out of the closet is still considered a taboo for some people. For this reason, a person who acknowledges his/her sexual preferences faces the possibility of being ostracized, scorned and rejected by loved ones and friends.


This is exactly what happened to a guy named RJ. He could not continue living a lie so he opted to transform himself into Rowena Joy. His story will be brought to life by Paolo Ballesteros and Iza Calzado on GMA-7's SROCinemaserye Presents Rowena Joy.


Beginningthis Thursday, August 20, Iza portrays the life of a homosexual dealing with rejection, transformation, and yearning for acceptance. RJ is a transgendered person when he underwent a total sexual transformation. As a kid, he was already harshlyrejected by his family for being a homosexual.



The actress said she had no apprehension playing the role. "Wala, Love ko naman sila noon pa!" Iza said during the press con of the show held last Friday, August 14, at the GMA Network building.
ADVERTISEMENT - CONTINUE READING BELOW
She adds that she did not have a hard time playing the role because she's surrounded by gay people every day at work. Two of the homosexual cast members, Joey Paras and BB Gandanghari, also helped Iza effectively portray the character.
Did her perspective of gay people change because of this show?
"Wala, love ko naman sila from day one. Pero mas natutuwa ako sa kanila habang ginagawa ko yung role," Iza replied.
What did she learn from the role?
"Maalaga sila... well if I were a guy. Pero kasi I understand it na yung mga bading, they're always looking for love."


So is she ready to portray more gay characters in the future?
"Relax! 'Wag naman, 'no? Baka magalit na yung mga bading kasi hindi naman ako bading!" laughed Iza.
SYNOPSIS. RJ will initially be playedby Eat Bulaga host Paolo Ballesteros. He was thrown out by his family when hisiron-fisted father (Rez Cortez) and homophobic brother (John Apacible) learned that he is gay.
ADVERTISEMENT - CONTINUE READING BELOW
RJ then becomes friends with two openly gay men, played by BBGandanghari and Joey Paras. The two help RJ cope with his situation, and will assisthim to go to Japanto find a steady job.
Upon his return to the Philippines, a more confident RJ undergoesa total sexual transformation and changes his name to Rowena Joy. An encounterwith Gino (TJ Trinidad), her former best friend and secret crush, then makesher think she has completed her dream. Sparks fly and the two soon deeply fallin love with each other.
Rowena Joy, however, still dreads the moment when she willhave to tell Gino the truth. Fears of abandonment push her, however, to keepthe secret hidden.
She also fears how his family will react to thetransformation. She misses them but will her revelation lead to another rejection? Will she finally be accepted after "coming out"? Will her dreamrelationship with Gino have a happy ending?
ADVERTISEMENT - CONTINUE READING BELOW
The newest season of SRO is directed by Soxie Topacio and head scriptwriter Jun Lana. It alsostars Shamaine Centenera, Lawrence Gutierrez, Prince Stefan, and RenzMichael Valerio.
SRO CinemaseryePresents Rowena Joy begins airing on Thursday, August 20, right after Cruel Loveon GMA-7.