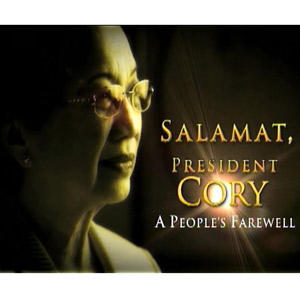 ---
While thousands of Filipinos braved the rain, millions were glued to their televisions, radios, and computers as ABS-CBN pulled off a comprehensive reportage of the late former president Corazon "Cory" Aquino's death and funeral rites.

Those who stayed at home were able to watch it on ABS-CBN Channel 2 and Studio 23. Those with cable television were able to tune in via ABS-CBN News Channel (ANC) and DZMM TeleRadyo while others had the option to listen to live updates via DZMM Radyo Patrol 630.

Dubbed "Salamat, President Cory," the coverage maximized ABS-CBN's multimedia platform to keep Filipinos worldwide informed on the turn of events: from Sen. Noynoy Aquino's heartbreaking announcement of President Cory's death, to the gripping funeral processions which drew crowds to the streets, to the tearful tributes of family and friends.

It marked the first time in Philippine history that a president's death was given a full-scale media coverage.

One of the most unforgettable parts of "Salamat, President Cory" was the arrival of the late former President's body at the Manila Cathedral, and the necrological and liturgical services which followed it two days after.

The ABS-CBN game show unit, led by director Bobet Vidanes and business unit head for game shows Marilou "Alou" Almaden, took charge of the coverage at this point. Kris Aquino, Cory's daughter, personally requested Bobet to direct the services. Bobet, in turn, requested his game show team to be with him in this project.

"I work with this team day in and day out. They know my expectations. They have my trust. With them, everything is like automatic," he said.

According to Alou, putting up the coverage was as hard physically as it was emotionally. Before the body arrived at the famous church last August 3, they only had less than 24 hours to set up 70 moving lights and 17 cameras all over the Manila Cathedral.

"We could only set up in bursts. There were weddings scheduled and we did not want to disrupt the normal routine of the church," revealed TV executive.

Bobet, on the other hand, recounted how they would pray in the church for the rain to stop, as it was making the setup more complicated. However, despite all the production and logistic setbacks, they never lost focus on why they were there.

"Our only intention was to give Madame Cory the moment she deserves. Like I told Kris when she asked me to do the coverage, no matter what happens, I will drop everything and do my best for her, and for my president.

He made sure the solemnity of the event would not be lost, especially during the performances of top singers like Lea Salonga, Regine Velasquez, Martin Nievera, Sarah Geronimo, Dulce, Ogie Alcasid, Eric Santos, Jed Maddela, Zsazsa Padilla, APO Hiking Society, Ivy Violan, Kuh Ledesma, Aiza Seguerra, Rachel Ann Go, Christian Bautista, Jose Mari Chan who were chosen by the Aquino family to take part in the memorial.

It was, after all, a very personal task for him. "Madame Cory was already special to me even before I got to work with Kris. I was able to serve her as a trainee of Radio-Television Malacañang back in 1987 and she was very gracious to me as she was to everybody," he explained.

Bobet said it wasn't hard to make his team feel as involved in the task as he was, even those who weren't alive yet during President Cory's term. "I just told them this is our last chance to say thank you and goodbye to the woman who brought freedom and democracy back to the country."

Alou added it was also a chance to be part of history. "Our work will be seen by generations and generations after. It wasn't just any funeral that we took part in, it was the funeral of one of the most beloved Filipinos and one of the most admired people in the world."

The ABS-CBN team was able to pull off a coverage that revealed not only how the Filipino loved President Aquino but also highlighted the beauty of the Manila Cathedral. Most importantly, they were able to keep it solemn and meaningful for the viewers and the Aquino family.

Likewise, other ABS-CBN units also went the extra mile to come up with a world-class coverage that Filipinos would be proud of. Under the leadership of ABS-CBN president Charo Santos-Concio and Channel 2 head Cory Vidanes, the whole ABS-CBN team churned in real-time news updates, exclusive interviews and breathtaking footage.

ABS-CBN chairman and chief executive officer Eugenio "Gabby" Lopez III also thanked the men and women of ABS-CBN. "Covering the death of a beloved president, I am sure, was emotionally draining for most of us. However, for one shining moment we remembered the best in all of us as exemplified by President Cory. It made me proud to be a Kapamilya, and an even prouder Filipino."


ADVERTISEMENT - CONTINUE READING BELOW