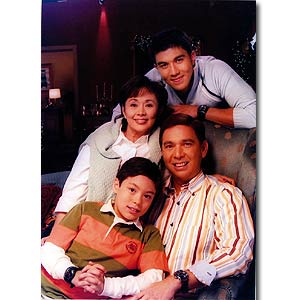 ---
Even at the age of 50+, Vilma Santos-Recto still yearning to havea baby girl. Even with her schedule full as an actress-public servant, the Starfor All Seasons is still open to the possibility of .

In the August 15 episode of Vilma: AWoman for All Seasons on ABS-CBN, Vilma said that she wanted a daughter whowould look like her. "If you'll ask me, sana mas marami pa. Prepared namanako. Kung tatanungin ako sana magkaroon ako ng isang baby girl. Sana naman yungkamukha ko na. Yung dalawa kong anak, e, mga mini me ng tatay nila," shesaid.

It will be recalled that Maria Rosa Vilma Tuazon Santos has two childrenalready: Luis Philip borne from a previous marriage to Eduardo Manzano. Now anactor-TV host in his own right, Vilma often refers to her son "Lucky"because his arrival in her life gave more success to her movie career.

Several years afterwards, her marriage with Edu ended with divorce. In 1992, shegot married to Ralph Recto and they were blessed with a son, Ryan Christian.

VILMA THE MOTHER. The woman whostarted as a child actress at the age of 9 said that she showers her childrenwith nothing but love and care. She sees to it that she attends to her family'sneeds, despite her busy schedule as an actress and a political figure.

"I see to it na pag uwi ko nadadatnan ko yung anak ko nagaaral gumagawa ngassignment... Pagdating ni Ralph, asawa ko naman. Tatanungin ko kung kumain nasya," she said.

Her youngest Ryan Christian describes how Vilma is like in their home. "WhenI come home from school, she hugs me. She says how are you, how's your day...She's like my best friend. I get to tell her secrets, things about school, aboutmy life."

Luis adds, "She's very, very cool. And definitely a very loving mother sapagiging makulit at malambing n'ya."

Of course a family is not just built on hugs and kisses. Vilma said that if thesituation calls for, she's sometimes forced to discipline her sons in her ownways.

"Ako gusto kong manatili yung disiplina nila. Pag hindi ko nakitangnakorek nya, alam nyang galit pa rin ako... One time I got mad at lucky.Binawalan ko s'ya gumamit ng cellphone," Vilma recalled.

Luky pointed out, "Hindi naman mainitin yung ulo nya. Gusto nya langnakakatulong ng tama." Ryan observed, "She doesn't scream naman. She justmakes her voice loud. In the movies, it's very different."

Vilma also admits to being thrifty. She reasons that it's just right to manageyour finances: making sure that the last penny spent is spent well.

"Kung ito ang budget natin for a month, sa lahat ng maintainance, we'llstick to this. Minsan sabon. Bibili ka ng cleanser. Pag hindi mo pinaghihirapanang pera, walakang pakialam. Sandali lang, kalahati ubos na. Hindi dapat ganun.

"I always tell them that once na binigyan kita ng pambili, binigyan kita1000 tapos may sukli ng 200. Yung sukli, tapos yung resibo, ibigay mo sa 'kin.Pero pag ako naman, may raket, lahat yan may share. binibigay ko lang yung tamakong pamamalakad, hindi naman kuripot.


HER HUSBAND, the BUNSO. Among hersons, her favorite is Ralph. Well, that is according to her husband.

"Parang nanay ko rin s'ya. Ang biro nga n'ya tatlo anak nya, si Lucky siRyan at ako. At bilang bunso ako yung paborito," said the former senatorand NEDA director general.

The couple have been married for 17 years now. Ralph said that despite herwife's shortcomings as a house keeper, Vilma remains to be the only woman hecan imagine himself with. "Matagal mag ayaos mataga magbihis. Isa lang angalam lutuin noon," he revealed.

He added: "I cannot imagine myself with any other wife. I thinks she's apartner in life. Maalaga siya, both as a wife and as a mother."

Like any other couple, the two sometimes get into an arguments. According toVilma, the most common reason for their disagreement is their son Ryan. Shesaid that the have their own way of raising their son, and this sometimes resultsinto conflict.

Vilma described Ralph's way of raising Ryan: "Feeling nya buddy buddy siRyan. Gusto nya lahat ng sport ipaaral: may taekwondo dyan, may golf d'yan.Lahat na ata judo, swimming...

"Sometimes pag galing sa sakit, sasabihin ko wag mo munang pag swimming. Kasinagaantibiotics pa yan hay naku, makita mo sila lumalangoy pareho sa swimmingpool. E, di magagalit ang nanay!"

As for Ralph, he pointed out: "Me and Ryan would go to the gym, playbadminton, play golf. Run around go biking. Pag nagaaway kami parang pelikularin yan. Parang si Vilma at si Christopher De Leon nakita mo sa sine.Madali naman palamigin ang ulo nyan. Lalambingin mo rin. Take care of herneeds. Magsisipsip ka rin kasama mga bata."

As a couple, Vilma said that she and Ralph stood by each other at all times.Both are currently involved in politics.

"Siguro ako lang yung laging nasa likod ng asawa ko. Kapag maron siyangmahahabang mga speaches, yayayain nya ko ng 'dear, would you listen sa speachko kung tama and paano ko ba 'to dedeliver.' Eh yung speech nya, siguro mg 20pages. So ako si missis galing trabaho, uuwi ako doon, O sige, sige,listen," Vilma shared.

"I respect him kasi alam nya ang kanyang responsibilidad bilang asawa. Akokahit I'm earning my own money, meron pa rin akong allowance bilang pagbubuhaynya sa akin at sa kanyang anak," she added.

Ralph is grateful to have Vilma as his partner in life. "She's been very helpful.I think I've been helpful to her as well. Marami rin akong natutunan sa kanya.Palagay ko marami rin syang natutunan sa akin."

Their interdependence allows the couple to share all the emotional aspects oftheir career: including successes and failures.

LOWEST POINT IN THEIR LIFE. WhenRalph lost the in the 2007 Senatorial elections, this was their family's lowestpoint. "Isa yun sa pinaka-low momment ng buhay ko. Especially I won agovernor," she recalled.

"Plus the fact na alam ko ang intention nya. Yung intention nya na its noteven for one two three persons--it's for the country. Yet, it's an unpopularissue na itinapon sa kanya, na nakaapekto sa kanya that's why he did notwin," she explained.

Vilma said that Ralph helped her throughout her campaign for the position ofBatangas governor. She said that her husband insisted on taking care of her,instead of focusing on his own campaign.

"Instead of campaigning for himself, he was with me in Batangas so thathe'd take care of me. Mas magiistay sya dun kasi ayaw nya kong madisgrasya. Kasihindi biro yung paglaban ko. Kaya lalong mas masakit sa akin. Pag uwi nya,nandito kaming mag ina. Sinabi lang namin sa kanyang 'that's life'. Yun langsinabi namin. But deep in me: and sakit...sobra."

Over time, the wounds healed. Vilma said that she and her family were able to getover the loss.

Vilma declared, "We overcame it. We're fine now. He's the secretary now ofNEDA.

Overall, Vilma said that she is thankful for having the family that she has now-andgiven their glowing words for her, they are lucky to have her as well.

"I'm blessed and I can consider myself genuinely successful," Vilma concludes.
ADVERTISEMENT - CONTINUE READING BELOW