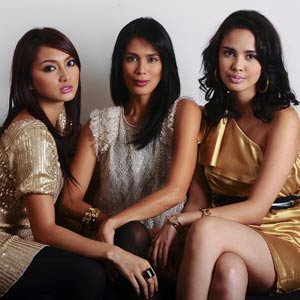 ---
Us Girls is off to a sparkling night this Sunday, August 23, as they share tips about glimmering items that can highlight every woman's beauty.

Angel Aquino, Iya Villania, and Megan Young will show viewers how to sparkle with jewel-toned dresses and shimmer with head-turning makeup items. Learn how putting some gloss in your lips, a twinkle on your lashes, and a shimmer in your cheeks can unravel the beauty in you.

This episode will also teach viewers how to give their hair the shine it truly needs. Find out the difference between classic natural black and jet black hair and how to make your tresses shine even better.

Since diamonds are every girl's best friend, you may also be interested on the latest gold rush in the jewelry market today. Let Us Girls guide you to those glimmering treasures that will surely excite every girl in town.

Join Iya, Angel and Megan as they unveil vital tips on how to become the shining star of the night on Us Girls, this Sunday (August 23), 7 p.m., on Studio 23.

ADVERTISEMENT - CONTINUE READING BELOW