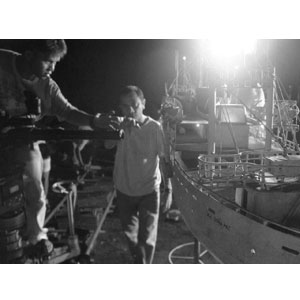 ---
On December 20, 1987, Aludia Bacsal, 14, and herfather boarded an already crowded ship in Tacloban City, Leyte. Excited Aludiaeven skipped her school's Christmas party just to spend the holidays inManila. Little did she know that the ship—the now infamousMV Doña Paz of Sulpicio Lines—was fated to sink after colliding with an oil tanker six hours later, killing an estimated4,000 people on board.
Follow the stories of Aludia and Salvador Bacsal, and 22 othersurvivors, in Asia's Titanic, the first all-Pinoy documentary produced for theNational Geographic Channel (NGC). The one-hourexclusive will be aired on Tuesday, August 25, 9 PM.


Directed by YamLaranas, Asia's Titanic tells the story of the MV Doña Paz tragedy,considered the world's worst peacetime maritime disaster ever recorded.
The documentary features interviews withsurvivors, stock footage, and reenactments of the incident.
According to Direk Yam, the purpose of the documentary is to tell a good story, not to investigate the cause of the tragicaccident.
ADVERTISEMENT - CONTINUE READING BELOW
"This is not an investigativepiece. It's not even reportage, not current events. It's story-telling, more ofa clear narrative of what happened to Doña Paz," he explained.
Direk Yam, one of the fewFilipino directors to have directed a full-length feature in Hollywood, didAsia's Titanic through a grant from NGC, a cable network known for producing high-quality showsabout science, nature, culture and history. To produce a documentaryfor NGC, the filmmaker must pass a rigorous screening processadministered by its top executives.
The Filipino director was one ofthe 15 Asian producers who were given the grant in 2004. More than 300filmmakers from Asia competed for the slot, and it was the first time for anall-Filipino team to receive the grant.
"It's a great privilege to do adocumentary for the National Geographic and then, at the same time, to do adocumentary about the story, yung tungkol sa drama na nangyari, about the DoñaPaz disaster," he said.
ADVERTISEMENT - CONTINUE READING BELOW
Asia's Titanic will premiere onthe National Geographic Channel (SkyCable Channel 41) on August 25, 9 p.m. The other screening hours are:
August 26 - 4 and 9 am; 1 and 9 pm.

August 30 - 9 pm
August 31 - 1 and 5 am
September 5 - 6 pm
September 28 - 8 pm
September 29 - 1 pm