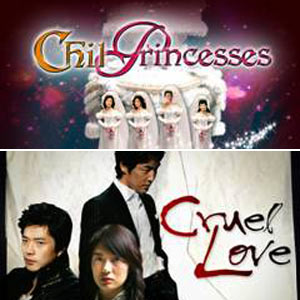 ---
Will all of the Chil Princesses find their fairy-tale ending? And can a forbidden romance finally gain acceptance in Cruel Love?

Find out how the Koreanovela stars of GMA-7 have maneuvered their destinies in the heart-twisting final episodes of Cruel Love this Thursday, August 27, and Chil Princesses this Friday, August 28.

The Chil sisters have proven that they are not just family by name but also by deed. But as much as family rescues in time of need, the four sisters are still bound to make decisions on their own.

Demi Chil is slowly winning the hearts of Frankie's kids but would it be reason enough for Frankie to ask his ex-wife to let go, or does Demi need to build a new life on her own? Then, there is the strong-willed Cleo Chil who learned about her pregnancy but is reluctant to tell Adam because of the duties that await Adam abroad. Will Cleo remain strong for the love of her life or will she be selfish just this one time?

Another pregnant sister is Mi Chil but unlike Cleo, she doesn't want to live with the father of her child, Roland. How will Roland handle such a rejection? Will he concede to Mi Chil especially now that he has a wonderful career ahead of him? Finally, there is Thea Chil, who has conquered a tragic fate with her boyfriend Sammy. Will they remain triumphant in the end even after their first child?

Meanwhile, in the harrowing drama of Cruel Love, Sandra is about to commit suicide because of her huge debts. Who will rescue Sandra? Will this signify her letting go of Yuan?

On the bright side, Jullian and Stefan are finally on good terms but Jullian fears that Stefan will not live to tell their daughter Joyce that she is adopted. Will their good relationship push Jullian to live a better life and give up her revenge on Ellaine? Or will her hatred towards Ellaine continue even after Ellaine and Yuan fulfill their agreement to part ways on Yuan's birthday? And while living separate lives, will love remain cruel to Ellaine and Yuan or will fate forgive and let them embrace the happiness they deserve?

The answers on how the Chil princesses and forbidden lovers shape their fates will unveil on August 27 and August 28, respectively, on GMA-7.
ADVERTISEMENT - CONTINUE READING BELOW