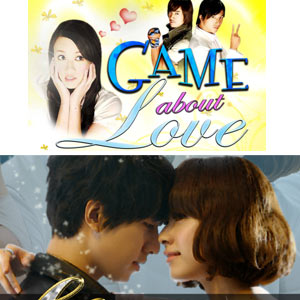 ---
Treat yourselves daily with twodoses of love beginning Monday, August 31. GMA-7 will air the pilot episodes of two upliftingAsianovelas, Shining Inheritanceand Game about Love.
Experience a spellbinding fairytale night with the popular Korean drama for 2009 titled Shining Inheritance. This TV series features the genuine affection among familymembers and couples alike. Viewers will empathize with themodern-day Cinderella named Inna (Han Hyo Joo) who, after her father'sdeath, was thrown out by her wicked stepmother and stepsister.
Adding to her misfortune is hersearch for her autistic brother Nono (Eun Woo) who got lost in the airportafter he switched bags with an unknown person. Despite her life'sexperiences, Inna continued to be a compassionate. person. She even nursed an old woman whosuffered from temporary amnesia.
Fortunately for Inna, this womanturned out to be a CEO of a big restaurant chain. Then serving as Inna'sfairy godmother, the old woman makes Inna her heir and takes Inna to her palacewhere she meets an unlikely prince charming named Juan. Not only is thisperson an envious grandson, he is also the man responsible for Nono'sdisappearance!
ADVERTISEMENT - CONTINUE READING BELOW
How will Inna and Juan realizethat they care about each other more than their personal struggles? CanCinderella indeed handle this unlikely Prince Charming?
Meanwhile, every afternoon,viewers will discover how fun and how far love could go if it is to be treatedas a game in Game about Love. This endearing romantic-comedy series brings backJo Chen who previously starred in Frog Prince and Fated to Love You.
The love "players"include Benjo, a rich puck and Ivan, a romantic painter-- two swornfriends who accidentally start a fire and get rescued by a mysterious girlnamed Lalaine (Jo Chen). In order to extend his gratitude, Ivan asked Benjo to searchfor their rescuer.
But as the whimsical hand of fateinterrupts, these two mischievous boys unknowingly encounter Lalaine throughtheir acquaintances and inevitably and simultaneously fall for Lalaine'ssimple yet kind-hearted persona.
Who will win in the game theythoughtlessly started? Viewers will surely fall in love with the bettercontender in the game of love.
ADVERTISEMENT - CONTINUE READING BELOW
Two different doses of romancebegin on Monday, August 31, with Shining Inheritancerightafter Survivor Philippinesand Game about Love right after Kung Aagawin Mo angLahat Sa Akin everyday on GMA 7.