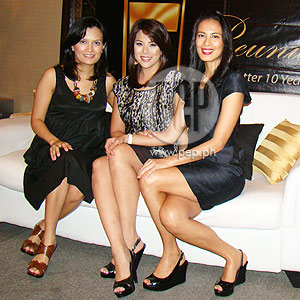 ---
The F girls areback for a special reunion TV episode!
Before conducting an exclusive interview with the former hosts of thelifestyle magazine show F last August 27, PEP (Philippine Entertainment Portal) spotted Cher Calvin and Angel Aquino browsing through an album containing photos when they were still part of the ABS-CBN show.
"It is a dream come true because those are my favorite yearsof my life," said Cher about being reunitedwith former co-hosts, Angel and Daphne Oseña-Paez. Cher left the program to be a newscaster inKTLA in Los Angeles,where she gained an Emmy award for Best Newscast in 2006.
It was July of this year when Angel and Daphne were launched as the Ambassadress for Olay's newest campaign called Olay Exposé. They announced that Cher would be coming back to the Philippines for a special reunion of the F girls.
The specialreunion episode of F willbe shown on September 27 during ABS-CBN's Sunday'sBest timeslot.
ADVERTISEMENT - CONTINUE READING BELOW
The F girls neverthought that a reunion would ever happen after 10 years.
Being the first person tapped by Olay for this project,Daphne said she was initially hesitant to ask Cher. She narrated, "I was really kinda nervousasking her [Cher] about it. When you were all excited, I was like, 'Yeah!It's gonna happen!' And finally, we'rehere!"
Angel was equally excited to reunite with her formerco-host. "I was just very excited to see us three again," said the TVhost-actress. "I just couldn'twait. I wanted to know when Cher was coming in and I wanted to see her the first daythat she was here. I just really waitedfor this day to come. No anxiety orwhatsoever, I was really excited to see you guys. Just to see us here together and seated on acouch, just like the old days!"
Cher then recalled thethings she missed about being an F host. "We travel a lot, we have a lot of fun. You know, I didn't realize what an impactthis show made! And to honestly becalled back six years later, I can't believe that people would even remember myname."
ADVERTISEMENT - CONTINUE READING BELOW
She added, "I missed this. I mean, we're giggling, we're happy, it is a sisterhood. You know it's amazing it's amazing because wehaven't seen each other in six years. Wehaven't been in touch since we decided six months ago. But it doesn't matter because this is family,F is for family."
BEING AN F GIRL. During the interview, the three girls alsorelated to the media the things that they learned from being an F host.
For Daphne, F hasbroke the notion that women always compete with each other. She said, "I think that was the beauty of F I think, you know, we should keep the women together. There's always a notion that womencompete. And there must be somecattiness behind us, you know, backstage. But with us, we always had our own thing beyond F, and so F was always somuch fun for us."
Now the producer of her own urban living show called Urban Zone, Daphne credits F for giving her hands-on experience. "I learned howto produce my own show, and since we graduated from F, now I produce my own show, UrbanZone. So, for me, when I'm askedabout Urban Zone, it's like thegrown-up "F girl" on her own, with herown house."
ADVERTISEMENT - CONTINUE READING BELOW
The Pinay newscaster in L.A. said, on the other hand, that she missedthe lighter side of being the face of a television show.
Cher stated, "You know, Iwas missing the days when we would just be bantering. Now, it's about reading death anddestruction. Now, it's all different,all-accurate, you know. But it's nice to be back and talk about some life and look at the bagthat Daphne has. And it's funny becauseI'm so much in that zone now of [delivering] hard news. Fashion is so secondary, unfortunately. You know, it's like, 'Oh God! I can't wait tobe back with F girls and see what'snew.'"
For Angel, Fhelped her a lot in hosting her current program that is similar to F, the Studio 23 show Us Girls.
She remembered, "Before, I looked up to Daphne. I mean, I wasnew. Even though I came from fashion,like I was a model, but I didn't know about style and fashion, anything aboutthat. That side of the world was astranger to me. But when I got to bewith Daphne and Cher, such stylish women, alittle bit of those rubbed off to me. That was good. Now, I'm able tobe the Daphne in the group for Iya and Megan. F helped me with my live hosting career and all the otherthings I'm doing now."
ADVERTISEMENT - CONTINUE READING BELOW