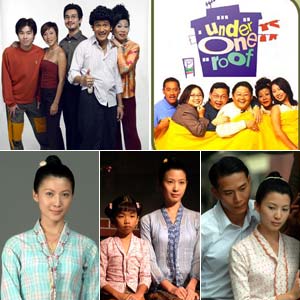 ---
TV5Senior Vice President and Head of Brand Management Jasper Evangelista deniedrumors that the network was about to launch a noontime program to competeagainst the two bitter rivals in the block.The TV executive announced this during a press conference held last July30 at Cravings restaurant, Shangri-La Plaza Mall in Mandaluyong City.
"Because clearly Wowowee and Eat Bulaga! theyhave the lion share [of the viewers] already or practically the wholePhilippines are watching them already so wala namang pangangailangan doon. AngTV5 naman kung saan may pangangailangan dun kami bumabawi," pointed out Mr. Evangelista.
The network executive once againstressed the network's vision of offering alternative programs to cater to Filipino viewers.
FILLINGTHE VOID. Makinggood on TV5's promise, the Novaliches-based station proudly announces thelaunch of its Noontime Drama Delight and Laughternoon Break to bolster itsafternoon programming.
Leading the list is the Singaporeandrama series The Little Nyonya.Described as a cultural masterpiece touching on the life and times of thehalf-Chinese community, the series dates back to Malacca (the third smallest Malaysianstate after Perlis and Penang and is located in the southern region of theMalay Peninsula) in the '50s—when Peranakan (term used for the descendants oflate 15th and 16th century Chinese immigrants to theNusantara region during the colonial era) culture was at its peak. It beginswith a girl named Angela, who discovers the history of her ancestors, theirstruggles and plight as Nyonya women appeasing both the Chinese and Malaycommunities.
TheLittle Nyonya hadwon Best Drama Serial, Best Supporting Actresses, and Best Actress in the 2009Star Awards in Singapore.
Shifting to quality light comedy, TV5presents the Singapore award-winning comedy series Phua Chu Kang. The show focuses on the hilarious hits and misses ofKang's domestic life based on his everyday interactions with his family.
Still leaning on the funny side is theAsian TV Awards Best Comedy Series UnderOne Roof. The said comedy series, considered as one of the premiere comedysitcom in Singapore dwells on the wacky of a typical multi-ethnic Sinagporeanfamily.
ADVERTISEMENT - CONTINUE READING BELOW
Station brand manager AristoncitoCebrero explained that the decision to preview Singapore series here in localshores was a conscious effort by management to veer away still from the commonmenu (read: Korean series) dished out by the two giant networks.
"One great thing about Sinagpore seriesin terms of plot and themes is that it is very close to us Filipinos," saidCebrero, who cited the fact that Singapore, like the Philippines, is burstingwith multi-racial dynamics. The tradition of both countries also has a lot of surprisingsimilarities.
It is also interesting to point out thatthe TV5 noontime and afternoon lineup have previously enjoyed great success inother Asian countries like Malaysia, Cambodia, Vietnam, China, Australia,Taiwan, China, Australia, Taiwan, Hong Kong, France and even Canada—a tellingproof that the mentioned programs are good and were already audience testedeven before penetrating the local airwaves.