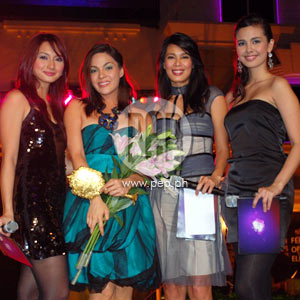 ---
KC Concepcion was the biggest winner atthe first Us Girls August Awards held last Thursday (August 20) at theNew Eastwood Mall Open Park in Libis, Quezon City.

The singer-actress took home the "UsGirls Icon Award" for exemplifying the qualities the program Us Girlsis all about: smart, updated with the latest trends, independent,adventurous, and a role model to everyone. KC said the special awardwill empower her more as she continues to carry on her career andadvocacies.

Fellow Kapamilya stars Kim Chiu of Tayong Dalawa and Anne Curtis of The Wedding were also recognizedfor their style and beauty at what was billed as the hippest fashionawards in the Philippines.

Kim, who shared some of her beautysecrets through a recorded video message, was named "Face of the Year"with models Tweety De Leon and Isabelle Daza. Anne, on the other handwas one of the "Most Fashionable Women of the Year" together withmodels Bea Soriano, Divine Lee, Bianca Valerio, and TV Patrol Worldentertainment reporter Marie Lozano.

The beautiful women have tipped theyoung ladies who have graced the event that they need not to spend bigbucks in order to be fashionable. Valerio said that her clothes duringthat night came from a thrift shop but still she looked very fabulous.

Also awarded were "Make-up Artists ofthe Year" Jigs Mayuga, Barbi Chan, Bobby Carlos and Krist Bansuelo and"Stylists of the Year" Rey Ilagan, Bianca Santiago, Liz Uy, and PamQuinones.

The unpredictable weather did notstop hosts Angel Aquino, Megan Young, and Iya Villania and theirfabulous fans from all over the metro in crowning the year's topperformers in the world of fashion.

Us Girls named the event "August"after the word which means "majestic" and "impressive." The winnerswere determined based on poll votes cast online in the show's website and thorough the deliberation of the program's staff.

The glamorous night was highlightedwith brilliant performances from the Ballet Philippines, La SallianOrchestra, acoustic royalty Princess, balladeer Ronnie Liang and afashion show featuring the designs of young Filipino designers ReianMata, Charina Sarte, and Tippi Ocampo.

Us Girls airs every Sundayat7 pm on Studio 23.


ADVERTISEMENT - CONTINUE READING BELOW