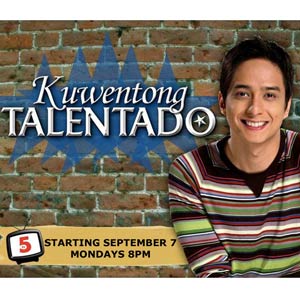 ---
On TV5's Talentadong Pinoy,all sorts of talents are seen in the limelight, but little is heard of thestories behind the hopefuls who flock to the auditions, make it to the cut, andeventually for some, to the Hall of Fame. With the show's success of being theleading Saturday program, Talentadong Pinoy has spawned a spin-off thataims to reveal stories worth-telling to inspire every talented Filipino, titled KuwentongTalentado, airing its pilotepisode this Monday, September 7.

Featuring never-before-seen footageof hundreds of aspiring contestants during the auditions, heartwarming storiesof how, against all odds, ordinary people become professional performers, mostmemorable and most talked-about moments during tapings, as well as tips fromthe Talent Scouts and the Hall of Famers, Kuwentong Talentado is your backstage pass to see and hear thestories and secrets behind one of the Philippines' leading talent shows.

"It's both a support program for,and an independent show from, the original," says Talentadong Pinoy hostRyan Agoncillo. The show serves as a prelude—abackstory, on the lives of the contestants of the following TalentadongPinoy episode that airs Saturdays, as well as success stories of previouswinners, runners-up, and Hall of Famers.

Not limiting the stories to theperformers who compete on the show, KuwentongTalentado also features ordinary Pinoys who have exceptionaltalents, such as carpenters, mechanics and the like, who also have their ownshare of interesting and inspiring stories.

On Kuwentong Talentado, behind every successstory is atalented person who grabbed an opportunity, and behind every talent is a sourceof inspiration to turn dreams into reality.

Witness and be inspired with howgreat the Filipino talent is and how Pinoys' perseverance and hardwork resultin success in the very inspiring Kuwentong Talentado, airing every Monday startingSeptember 7, 8:00 PM on TV5.