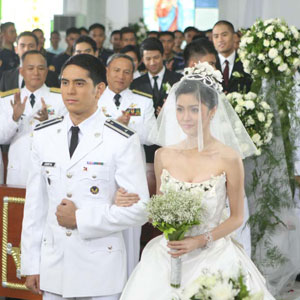 ---
One of the leading shows of ABS-CBN's PrimetimeBida block, Tayong Dalawa, is now downto its last 10 nights but viewers can expect more startling scenes that will leavethem hooked.


In a previous episode, Audrey (Kim Chiu) confessed to JR (Gerald Anderson) thather heart beats only for him. Viewers were thrilled as the two young lovers hada wedding ceremony in front of their friends and family members to declaretheir love for each other. Richard Poon was present as the wedding singer andhe performed "And I Love You So" for the couple.


How will Dave (Jake Cuenca) react to the fact that Audrey is also married toJR? Will he leave them at peace or will he still try to capture the heart ofhis beloved?


As the plot thickens, Audrey and JR are set to have their honeymoon. However, wheneveryone thought that things are starting to smooth out, tragic events willtake place.


Someone gets the blame...Someone faces death...Find out in the final episodes of this Kapamilya show.


Brace yourself as Tayong Dalawapromisesto give explosive revelations when it airs weeknights right after May Bukas Pa on ABS-CBN.