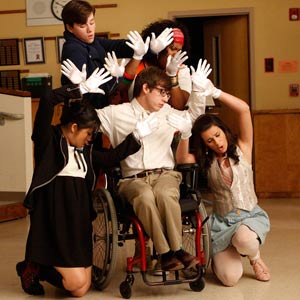 ---
There are three good reasons to root for the underdogs: Theyare always determined, often dysfunctional, and most likely hilarious withoutthem knowing it.
The underdog in all of us can touch base with Glee, a new musical comedy that will premiere on Jack TV tonight, September 14, at 8 pm and on ETC on September 15,Tuesday, at 10 pm.
Nip/Tuck and Popular creator Ryan Murphy brings us toMcKinley High School, where teachers have lowstandards and kids are, ahem, dumb. Inthe middle of mediocrity and apathy, Will Schuster (Matthew Morrison), idealisticteacher, revives his own passion for singing and performing by saving theschool's Glee Club from obscurity. Armed with limited resources and a stubborndetermination, he gathers an eccentric bunch of students and helps them realizetheir star potential even if everybody thinks they are just a "tone-deaf acnefactory."
From initial auditions, Schuster picks up Rachel Berry (LeahMichele), a self-proclaimed star who uploads a video of herself singing onMySpace everyday; Kurt Hummel (Chris Colfer), a womanly voiced teener who hasan incredible long-sustaining soprano; Mercedes Jones (Amber Riley), a bigvoiced girl who refuses to sing backup; Tina C, a punk rocker Asian-American girl;and Artie Adams, a kid in a wheel chair with extraordinary electric guitarskills.
ADVERTISEMENT - CONTINUE READING BELOW
Realizing that the club cannot take off with kids who (inthe words of Sue, the cheerleading coach, occupy the sub-basement of the highschool caste system) Schuster takes steps to remedy this situation. He blackmails Finn Hudson (Cory Monteith), thequarterback of the school's football team, into joining the club. They areeventually joined by Quinn (Diana Argon), Finn's cheerleader girlfriend, andher posse in a jealous fit over Rachel. Together, the "gleeks" revive the cluband try to make it into the regional competition by recruiting more members.
On Glee, viewers will see maladjusted teachers hiton each other, hit on students, double as drug dealers, and power trip in thefaculty lounge. That is the charm of Glee—it'sodd visuals and crude jokes. If Gleeis a movie dog, it's a bad-smelling, flea-infested Lassie.
The hour-long show has a biting humor that hits you like astun gun. Take it from Rachel explaining the reason for her behavior: "Fame isthe most important thing in our culture now." Or Kurt, composing himself beforehe is loaded in the garbage bin by the jocks, "Someday you will all work for me."
ADVERTISEMENT - CONTINUE READING BELOW
Glee also has a great lineup of songs that appeal even to abroad audience. Watch out for a fantastic choral rendition of Journey's "Don'tStop Believing," and a raunchy performance of Salt 'n Peppa's "Push It"—bigcrowd pleaser. Also not to be missed isCory's singing of Reo Speed Wagon'spower ballad "Can't Fight This Feeling" in the gym shower , and Lea's versionof Rihanna's "Take a Bow" which is sad and sweet and will make you want torewind the scenes. The Gleeks also perform Kanye West's "Gold Digger."
Rounding up the cast are Jane Lynch as the hyper feministgym teacher Sue Sylvester; Jayma Mays as the cleanliness obsessed Emma Pillsbury;Gesalyn as Will Schuster's crafts addicted wife; and Mark Salling as Noah "Puck" Puckerman, Finn's friend on the footballteam and a true-blue jock.
Yes, Glee iscliché. It's a classic story of high school wannabes rising to the top. But itworks, thanks to its energy, and its eccentricities. The first episode makeswho want to belt out in the shower. The second makes you want to see the nextone already. I have the feeling this is going to be great.
ADVERTISEMENT - CONTINUE READING BELOW
Watch
Glee
every Monday night at 8 pm on Jack TV and Tuesday night at 10 pm on ETC.